The authentic voice behind the songs, the beat and one of the singers in The Band is in the final stages of cancer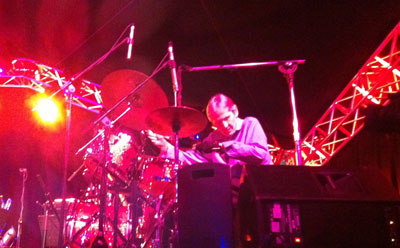 Three hours ago his family posted this message on
Facebook
.
Dear Friends,
Levon is in the final stages of his battle with cancer. Please send your prayers and love to him as he makes his way through this part of his journey. …
Thank you fans and music lovers who have made his life so filled with joy and celebration… he has loved nothing more than to play, to fill the room up with music, lay down the back beat, and make the people dance! He did it every time he took the stage…
We appreciate all the love and support and concern.
From his daughter Amy, and wife Sandy"

Levon Helm
, 72, was the only American playing in a band that specialized in Americana and a form of swamp rock. Levon was born in
"Marvell, Arkansas
, and grew up in Turkey Scratch, a hamlet west of
Helena, Arkansas"
on May 26, 1940.
He grew up with southern country, bluegrass and rock and roll music all around him. It was a combination of The Grand Ole Opry, Elvis, Carl Perkins, Bill Monroe and the Bluegrass Boys, Sonny Boy Williamson the great harp player, black blues, Minstrel Shows – the multicultural melting pot of the American interior. He joined a succession of rock band until he ended up backing Bob Dylan's crossover from folk music to rock and roll in 1965.
Levon Helm was a multi instrumentalist often playing mandolin. But it was his propulsive and complex drumming that became his signature. Levon Helm didn't play the beat as much as he played the timbre of his drums while keeping a complex time signature. Jim Keltner, the famous session drummer, was a Levon Helm admirer.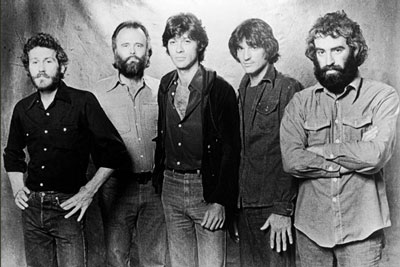 Within three years, Levon Helm and his band-mates along with Bob Dylan created an entirely new but old music – Southern Country Rock. As The Band they enjoyed success until they broke up in 1976 with the filming of "The Last Waltz".
The Band created timeless hits such as "The Night They Drove Old Dixie Down", "The Weight", a song about their trip to the Martin guitar factory in Nazareth, PA, "Up on Cripple Creek", "Rag Momma Rag", and "Stage Fright."

Battles in The Band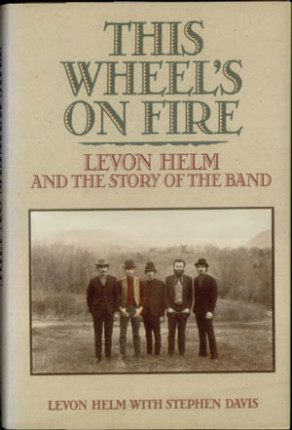 Levon would go on to criticize the movie and especially Canadian band-mate Robbie Robertson, who he accused of stealing the limelight from his band mates and appropriating the bands songs as his own for copyright purposes. It does seem a little odd that the camera and spotlight stays on Robbie Robertson, who is photogenic but has a flat frog-like voice, when the sweet voiced Richard Manuel is signing his heart out. Apparently, Robertson insisted his mic be live, so they had to go back to the studio and over-dub the vocals removing Robertson's voice before releasing the movie.
Let's face it – did Robbie Robertson grow up in the Southern US or in Brantford, Ontario? The cultural roots and soul of The Band was Levon Helm's roots and soul. Levon makes that accusation and the case for it in his autobiography
This Wheel's on Fire: Levon Helm and the Story of the Band
.
Interestingly, Bob Dylan who is notoriously for jealously guarding his copyrights, credited two songs to member of The Band on "The Basement Tapes." Richard Manual gets 4 song writing credits, and Rick Danko gets two.

Levon Helm in the 1980s and onward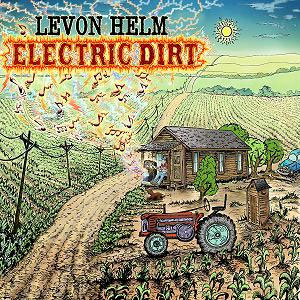 During the 1980s, Levon put together a series of bands including a reunion tour of The Band without Robbie Robertson. He liked to tour with the Cate Brothers who played his style of southern country rock. During the 2000′s Levon put on Midnight Ramble as small concerts in Woodstock for his friends and adoring audiences.
His two solo albums Dirt Farmer (2007) and Electric Dirt (2009) both won the Grammy Award.
Levon toured from time to time and appeared at the Fredericton Harvest Blues and Jazz Festival in 2011.
Apparently, his cancer which had been in remission has come back.
Levon Helm early years
He played with Ronnie "The Hawk" Hawkins, another Arkansas boy playing rockabilly.


When Rockin' Ronnie saw too much competition in the States, he moved to Toronto where he made his stand. Levon left Arkansas for the Great White North and fame.
In 1959 Ronnie Hawkins signed with Roulette Records. W and recorded "Ronnie Hawkins", an album so hot they had to invent new dances to do.

"Forty Days", "Mary Lou" and "Odessa" were big hits in Canada at least.The compelling drummer behind those hits and Ronnie Hawkins was none other than Levon Helm, who created his own style of drumming.
Levon's real name is 'Lavon' but his Canadian bandmates couldn't say it right so the called him "Lee-von" and the name stuck.
I carried that Ronnie Hawkins record to every dance party until it got broke in 1963. Little did I know that the drummer, Levon Helm, was getting ready to head out on this own with other members of Ronnie Hawkins band – guitarist Robbie Robertson, bassist Rick Danko, pianist Richard Manuel and organist Garth Hudson. They left Ronnie Hawkins when his partying hard life style became more important than the music.
Levon and the Hawks, "The Canadian Squires" and finally just "The Hawks" toured throughout the States, playing cheap bars and dives until one day they ended up playing Jack Ruby's bar in Dallas Texas. With only two people in the bar, a fight broke out, they related in the movie "The Last Waltz".

Levon Helm and Bob Dylan
In 1965, Bob Dylan shocked the folk world by going on stage at the Newport Folk Festival with a rock and roll band including guitar wizard Mike Bloomfield and organist Al Kooper, who earlier laid down the organ riff in "Like A Rolling Stone."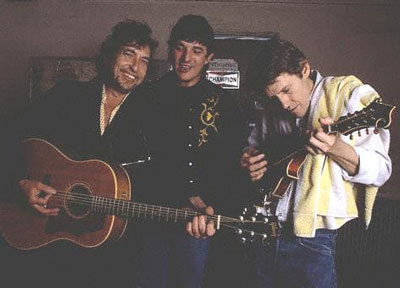 After the shock heard around the world, Dylan hired Levon Helm and Robbie Robertson to help him in a concert on August 28, 1965 in Forrest Hills, New York. The crowd was partly enthusiastic and partly mad.
Dylan took that band on an US tour that always had booing audiences. When Dylan wanted to take the band to England, Levon quit and went back home. When Dylan and his musicians returned to America they holed up in Woodstock New York and Levon joined them again.
Dylan has a minor motorcycle accident which he used to break his tour concert contract with his manager, and the boys started to prepare a new style of music that became Bob Dylan on "John Wesley Harding" and The Band's first album "Music From The Big Pink"

It was rock, but it was country too. Call it roots music, Americana, whatever you like – Bob Dylan and The Band and they were then known had opened the doors to southern country rock and roll.
Later bootleg tapes of the practice recordings would surface as "The Great White Wonder" and there were also demo tapes from Dwarf Music that Dylan's manager Al Grossman used to pitch songs like "The Mighty Quinn" to Manfred Mann.
With stores from The Band bio website and wikipedia.
Where to buy Levon Helm's music
| | Books, DVD, Blu-Ray | CD | MP3 | Vinyl |
| --- | --- | --- | --- | --- |
| | Books, DVD, Blu-Ray | CD | MP3 | Vinyl |
| Amazon.com USA | | | | |
| | | | | |
| | | | | |
| | | | | |
| | | | | |
| | | | | |
| | | | | |
| | | | | |