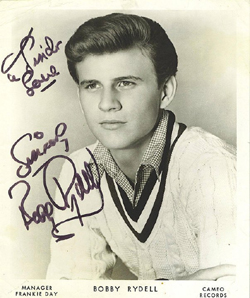 You can publish this article on your website as long as you provide a link back to this page.
This article was last updated on April 16, 2022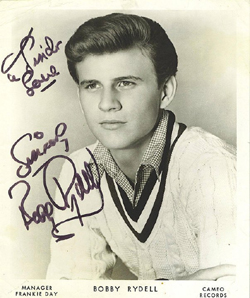 Faithful followers of this 1950s Rock & Roll icon still flock to his performmances if rock & roll is dead, don't tell Bobby or his faithful followers who pack the show rooms on every tour.
Before his generation of "Philly" stars, there was Mario Lanza and Al Martino, "South Philly" boys who kept the pop charts hopping and bopping with Italian American names.
Bobby Rydell fans will be happy to know that the singer was recently given the lifetime Achievement Award by UNICO at their national Convention In Hershey, Pa. and he was an honored guest of the National Italian American Federation In Washington DC on Oct 23, 2010
With Rydell's generation of singer came a big change in music. It was no longer, "Your hit parade" it was "Your teenager's" hit parade and the standard singer of standard songs had to get with it… or move out of the way, "Cause Rock and Roll was here to stay!" The top ten songs now belonged to Fabian, Frankie Avalon, Bobby Rydell, Frankie Vallie, Paul Anka, Connie Francis… oh, yes, and a young southern boy from Memphis, Tennessee by the name of "ELVIS", but for the most part, it was Dino, Frank, Perry, Vic, Al and Mario who filled the airwaves in that renaissance of Italian American singers.
Eventually these singers of songs had to fade and new styles and trends would take their place. But there are those from that era that have found the magic marker that seems to stall off time and change. Bobby Rydell has found that magic formula that out last the fads and the fancies of the music fan to continue to find a fan base that has continued to support him though out his illustrious 50 year career. A good reason for that is that Bobby Rydell can sing, dance, act and play the drums. A good combination if you want to stay successful in this business
It seems his fans have never forgotten his hit songs that remained on the charts week after week with hits such as, "Volare", "Wild One", "We Got Love", "kissin' time", "Swingin' School" and, "Forget Him". These songs sold a combined total of 25 million records. Rydell has also been honored by his hometown, they changed the name of the street where he was born to Bobby Rydell boulevard
Bobby Rydell travels all over the world performing, from Australia where he has been welcomed for 20 tours to Las Vegas, and Atlantic city, and still finds time to perform "The Golden Boys" in a live concert , a traveling stage production, with pals Frankie Avalon and Fabian,
We caught up with this dynamo of entertainment in between engagements, via the telephone, and with his kind permission he allowed me to put several questions to him.
Bobby, this is a great pleasure to be talking to a rock & roll "icon" . Thank you for taking a break from your busy schedule to answer some questions from your fans.
Cookie: Bobby, you're still close friends with your teenage singing pals, Fabian and Frankie Avalon and even though you have the busiest schedule of any performer, I know you still continue to perform with your pals in the production, " The Golden Boys". This show is seen in every major city in the United States and plays to packed houses at Caesar's Palace and Desert Inn in Atlantic City and Las Vegas, you have even taken the act to television for The American Music Awards, among many others. How did this Hit production come about?
Bobby: The GB show has been running for 25 years now, unbelievable to Frank, Fabe and myself. When we first sat down with the creator of the Golden Boys, producer Dick Fox, we all joked it would be fun to do for 6 months or so. Audiences still go wild for it; three guys who used to hang on street corners in Philly now hanging out on stage together after all these years. People love the show; it's a fond look back at a time when things were simpler.
Cookie: There are many who think you have the style and mannerisms and sound of Sinatra, was he one of the singers who you most admired growing up in Philadelphia? If not, who was the greatest influence on you as a singer.
Bobby: My father was a fan of the Big Band sound and passed that love onto me. As a kid he took me to The Earle Theatre in Phila where all the greats performed. When I first saw Gene Krupa play I told my dad that's what I want to be, a drummer! Sinatra, well he was like God to me – in fact – he came to see my opening night club act at the Copacabana in New York City. I was all of 19 years of age. Can you imagine being told Sinatra was in the audience?
Cookie: For the most part, all your songs were new and never recorded before. Where did you find your hit tunes? With so many recorded hits did you search out new material, or did people submit songs to you, or did the studios decide what you would record?
Bobby: Actually, Sway and Volare were covers. Dean Martin had recorded sway previously, as Volare was a huge hit for Domenico Menduno. My version of these songs was recorded with a newer rock and roll flavor but with the big band instruments; strings and big beats. My first manager, Frank Day, selected most of the material that came to him from the record company and made most of the early decisions in my career.
Cookie: We know that Bob Marcucci discovered Frankie Avalon and Fabian. Their formative years with Marcucci were the basis for the movie, " The Idol maker" (1980). But how did you break into show business? Who, or what, was your key that opened the door?
Bobby: When I was about 10, I won a talent contest on a local TV Show in Philadelphia called The Paul Whiteman TV Teen Club. From there they asked me to stay with the show as a performing "regular". I joined a band a few years later, a group called Rocco & The Saints. One of my band mates was a trumpet player, Frankie Avalon. I was about 14 when we were playing at a club at the South Jersey Shore, when a gentleman, Frankie Day approached me and said he would like to manage me. I told him he had to talk to my father – from there it was a string of flop records and then Kissin' Time was given to us – and the rest is history as they say.
Cookie: What's coming up for you next in your tour dates and engagements? Also will there be a new CD in your future, your loyal fans hope so?
Bobby: We just finished up a West Coast tour with The Golden Boys, and will be doing some East Coast shows in October. I'll be working in Niagara Falls & Pittsburgh and Las Vegas too. Best way to check my tour schedule is to go to my web site and check the tour page at
Cookie: Bobby, you have a large fan base out there who enjoy seeing you at your personal appearances, but for those that can't see you in person could you please tell us what songs are currently available on CD and where can they be purchased ?
Bobby: There are several CD's for sale on my web site www.bobbyrydell.com. My latest work is one called "Now & Then" – a collection of standards I make my own. Also, there is a recent re-release of two of my albums from 50 years ago from the Cameo label. That's right, 50 years ago. ABKCO Records decided to preserve these two treasures and digitally re-mastered them in stereo. "The twin set is Bobby Rydell Salutes the Great Ones and Rydell at the Copa."
Cookie: Is there any one particular entertainer that you admired, and inspired you in your career.
Bobby:"Sinatra, well he was like God to me – in fact – he came to see my opening night club act at the Copacabana in New York City. I was all of 19 years of age. Can you imagine being told Sinatra was in the audience?"
Cookie: Bobby, before we close this interview, I would like to ask you a question that as an Italian American who enjoyed my own mama's cooking, and the cultural foods of my heritage, do you have a favorite Italian meal? And if so, can you cook it?
Bobby: Actually it was my Grandmother who was the cook in our family/ she didn't pass that onto me unfortunately. Give me a big bowl of escarole soup and I'm in heaven!!
If Rock& Roll is really dead, no one bothered to tell Bobby Rydell and his devoted legends of fans. This multitalented rock and roller from the 1950s is still in high demand and as active at his illustrious career as he was way back when…yes, way back, before the Beatles, before Disco and long before Rap came along.
Like a lot of the young singers who came from South "Philly," Rydell, whose real name is Bobby Ridarelli, was among the many young Italian American singers who had hit after hit on the Rock & Roll charts of the 1950s and '60s..