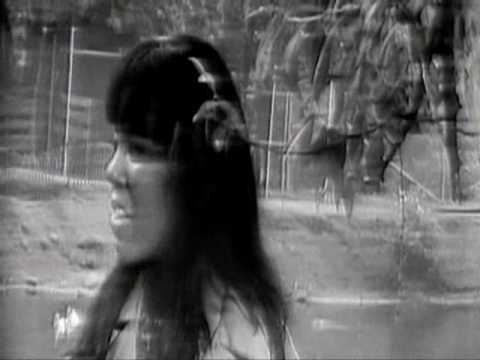 Billboard #1 hit for May 29 1964 'My Guy' by Mary Wells

Mary Wells recorded 'My Guy with Smokey Robinson' in production.
The song was # 1 for two weeks from May 16 to 29 in 1964.

Remember Beatlemania anyone? The Beatles has a three song /three month straight run from February 1 to May 2nd, 1964 with 'I Want to Hold Your Hand', 'She Loves You' and 'Can't Buy Me Love'.
Just prior to 'My Guy', Louis Armstrong hit # 1 with Hello Dolly for a week. Beatlemania returned after 'My Guy' with 'Love Me Do'.
Mary Wells 'My Guy' made it to # 5 on the UK charts and The Beatles said she was there favourite US singer and she was invited to open for them on tour.
My Guy
Mary Wells was Motown Records first female superstar. It was written and produced by Smokey Robinson of the Miracles.
For Wells it was her first and only Motown Hit because she left the label after her May 13, 1964 on the 21st birthday. She and her husband thought 20th Century Fox would make them more money on royalties. She got more all right, more of nothing.

Listen to the rhythm section on the original Motown production in the video – James Jamerson on bass, Benny Benjamin on drums, Eddie Willis and Robert White on guitar. The Funk Brothers could lay down a groove that made hits and they did it for Mary Wells.
The Funk Brothers other musicians for the March 13th recording session of 'My Guy' were Earl Van Dyke on organ, Johnny Griffith on piano, Dave Hamilton on vibes, and the great horn section of Herbert Williams and Russ Conway on trumpet, Paul Riser and George Bohannon on trombone.
Mary Wells 1965 Shindig version doesn't have the same punch and her vocal mannerisms are noticeable. The Funk Brothers were a big part of Hitsville USA.
After that she had a string of hits that took her to the peak of her career at # 1 with 'My Guy'.
Love him or hate him, Barry Gordy could produce hits in his tiny Motown studio.
My Guy has been covered by The Supremes, Sister Sledge, Aretha Franklin, Petula Clark and the 'My God' cover by Whoopi Goldberg in the film 'Sister Act'.
Mary Wells
Mary Wells (1943 – 1992) was born to a poor black family in Detroit. She suffered from spinal meningitis at two years old that left her partial blind, deaf and paralyzed. Singing in church was her way out of the misery.
She started singing for a living at 17 when she approached Barry Gordy with a song pitch. He recorded her and signed her to Motown. Her first big hit was another Smokey Robinson collaboration 1962 "The One Who Really Loves You'. It took a few more months to record and release 'You Beat Me To The Punch' which went # 1 on the R&B charts and #9 on the pop charts.

Mary Wells 'You Beat Me To The Punch'
Mary Wells career post-Motown was an unhappy one, marked by bad career moves, indifferent recording, poor health and drug addiction. Check out Wikipedia for the details.
The world thanks her for her great recordings, including the incomparable 'My Guy' her signature song.
By Stephen Pate, NJN Network
| | CD | MP3 |
| --- | --- | --- |
| | CD | MP3 |
| 1 CD and 20 tracks from Mary Wells Motown period including 'My Girl' | | |
| 2 CDs and 40 of the top Motown Hits including 'My Girl' | | |
| 4 CD Box Set and 103 Motown Hits including 'My Girl' | | |
| If you purchase from this site, it helps to pay the website fees. | We try to find the best and lowest cost sources, of course. Thanks. | |