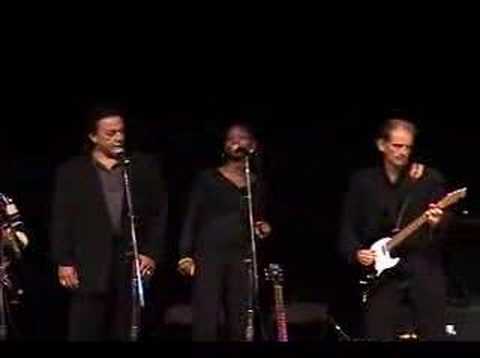 J.P Lenoir's 'Down in Mississippi' is considered one of the ten best protest songs from the 1960s
(Updated July 1, 2012) Mavis Staples was 68 years old when she sang this at the Philly Folk Festival in 2007.
Mavis Staples has tremendous soul and power. An awesome performer, she dedicated her life to gospel instead of fame and fortune. Her band is smoking.
Mavis Staples
Mavis Staples is the daughter of "Pop" Staples the famous gospel singer and one of The Staples Singers.
She combines gospel, rhythm and blues and activist songs as one of the most popular singers of the genre. Her appeal is so strong even Bob Dylan swooned over her and wanted to marry her at one point. Mavis turned him down.
'Down in Mississippi' by J. B. Lenoir
The song sounds like a blues or a spiritual depending on the arrangement but it's a raw protest song from the 1960′s.
J.B. Lenoir (la-nor) was a blues guitarist and songwriter from Monticello Mississippi who moved to the Chicago blues scene in 1949. Lenoir became a member of the Chess Records musicians. He performed in zebra suits and sang high-voiced with a strong slide guitar.
Lenoir didn't achieve any great popularity, although his songs like 'Alabama Blues' and 'Slow Down' are popular. In the 1960s, he began to write protest songs about civil rights, segregation and the Vietnam war. "Down in Mississippi" is from that period. Lenoir died in 1967 at 38 years old from pneumonia after an auto accident.
Martin Scorsese profiled J.B. Lenoir along with Skip James and Blind Willie Johnson in the movie The Blues.
Down In Mississippi lyrics
by J.B. Lenoir
Far back's I can remember
Either had to plow or hoe
One of those long ol' nine feet sacks
Standin' at the old turn row.
Down in Mississippi. Down in Mississippi.
Down in Mississippi where I was born
Down in Mississippi where I come from…
They had a huntin' season on a rabbit
If you shoot him you went to jail.
The season was always open on me:
Nobody needed no bail.
Nothing I got 'gainst Mississippi,
It also was the home of my wife.
But I count myself a lucky man
Just to get away with my life.
Ry Cooder
'Down in Mississippi' was a stable of Ry Cooder. He used the song in his in the score of 'Crossroads', the fictional story of a New York boy who wants to make the same deal with the devil as Robert Johnston.
The CD itself is worth listening to for the music, Ry Cooder and a Cooder / Steve Vai cutting session. The movie is a good bit of fun and an interesting story.
By Stephen Pate, NJN Network