This article was last updated on April 16, 2022
Canada:

Oye! Times readers Get FREE $30 to spend on Amazon, Walmart…
USA:

Oye! Times readers Get FREE $30 to spend on Amazon, Walmart…How does a CD get to be # 5 on the Amazon.com chart before it ships?

"Early Roman Kings" featured in the Cinemax show "Strike Back" from Dylan's new CD "Tempest"
The answer is, of course, it is Bob Dylan. Fan pre-orders for "Tempest" are strong enough to put the CD at # 5 on the Amazon.com best-selling albums music chart.
A 71-year-old folk / blues singer with a gravelly voice still captivates audiences around the world. When he releases a new CD, we want to hear it.
"Strike Back" on Cinemax will feature two songs from "Tempest" giving fans a taste of "Tempest" before it ships on September 11, 2012.
I call Bob Dylan a folk blues singer because that's what he started singing and that's what he still sings. The voice he has today has been a lifetime of careful crafting since he sang, "In My Time of Dyin" on his first album.
"In My Time of Dyin" on his first album, "Bob Dylan."
Critics dismissed that album as a weak attempt to sing the blues. In reality, it was one of the Dylan persona we have seen.
So we can expect more Dylan blues songs with lyrics cropped from poetry, novels, the Bible and Dylan's imagination. Sometimes, the tunes will seem familiar since blues plays on our ability to "get" a song instantly when melodies and riffs are re-cycled.
Instead of acoustic blues, Dylan has fallen in love with the post-World War II Chicago blues of Chess Records on his last albums. The trailer from "Strike Back" is in the Muddy Waters Chess style.
Dylan will claim copyright on the whole song, because he likes to "keep it with mine."
The Joker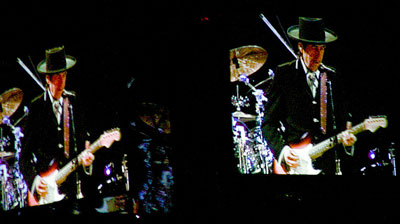 Another Dylan persona is the trickster, the joker.
This is the Dylan who puts forward the mask of the day, the mask he loves to give to the media.
Rolling Stone magazine gets exclusive interviews with Dylan when he wants to promote something. Most of what he tells them is hokum, tall tales Dylan makes up to spin and for the media to print.
When he was releasing "Together Through Life" Dylan gave an interview with Rolling Stone where he told them he trained every day with a boxer. The man toured with Dylan to keep him in shape. Of course, that's not true but Rolling Stone printed the fable as if it were.
Last week, Rolling Stone said Bob Dylan's new album was "His Dark New Album, 'Tempest'"
Could be, but all of Dylan's albums are dark to some extent. What's darker than "Hell is my wife's home town" I'll wait for the music to arrive and decide then.
| Pre-Order | CD | Vinyl |
| --- | --- | --- |
| Pre-Order | CD | Vinyl |
| Amazon.com | | |
| | | |
| Amazon.ca – Canada | | |
Rolling Stone
Here's what Dylan told Rolling Stone. Good luck separating the fact from fiction.
"Bob Dylan describes Tempest, his 35th studio album (out September 11th), as a record where "anything goes and you just gotta believe it will make sense.
"I wanted to make something more religious," he says. "I just didn't have enough [religious songs]. Intentionally, specifically religious songs is what I wanted to do. That takes a lot more concentration to pull that off 10 times with the same thread – than it does with a record like I ended up with."
"Tin Angel" is a devastating tale of a man in search of his lost love; the doleful "Soon After Midnight" seems to be about love (but maybe it's revenge); the vengeful "Pay in Blood" has Dylan darkly repeating, "I pay in blood, but not my own." Tenderness finally seals Tempest, in "Roll On, John," Dylan's heartfelt tribute to his friend John Lennon.
The title track is a nearly 14-minute depiction of the Titanic disaster. Numerous folk and gospel songs gave accounts of the event, including the Carter Family's "The Titanic," which Dylan drew from. "I was just fooling with that one night," he says. "I liked that melody – I liked it a lot. 'Maybe I'm gonna appropriate this melody.' But where would I go with it?" Elements of Dylan's vision of the Titanic are familiar – historical figures, the inescapable finality. But it's not all grounded in fact: The ship's decks are places of madness ("Brother rose up against brother. They fought and slaughtered each other"), and even Leonardo DiCaprio appears. ("Yeah, Leo," says Dylan. "I don't think the song would be the same without him. Or the movie.") "People are going to say, 'Well, it's not very truthful,' " says Dylan. "But a songwriter doesn't care about what's truthful. What he cares about is what should've happened, what could've happened. That's its own kind of truth. It's like people who read Shakespeare plays, but they never see a Shakespeare play. I think they just use his name."
Is Dylan's Tempest intended as a last work by the now 71-year-old artist? Dylan is dismissive of the suggestion. "Shakespeare's last play was called The Tempest. It wasn't called just plain Tempest. The name of my record is just plain Tempest. It's two different titles." Rolling Stone magazine.
By Stephen Pate, NJN Network
You may also like –
You can publish this article on your website as long as you provide a link back to this page.