CBC posted 12 songs from the 2012 Tall Ships Festival Joe Murphy Blues Review
I've been raving about the talented blues man Joe Murphy for years.
Now you can hear him live courtesy of CBC Music.
CBC recorded "Joe Murphy's Blues Review – 2012 Tall Ships Festival" which I reported on last summer. Joe Murphy Blues Revue rocks Halifax Tall Ships
CBC produced Glenn Meisner did an excellent job of capturing the excitement of that hot night on the Halifax waterfront.
Joe Murphy is a blues and zydeco institution. If you live in Nova Scotia hearing Joe Murphy live is easy. For more than 24 years he has held court at Your Father's Moustache on Saturday afternoon. He packs the place every time.
This summer CBC produced a concert on the wharf during the Halifax Tall Ships Festival 2012.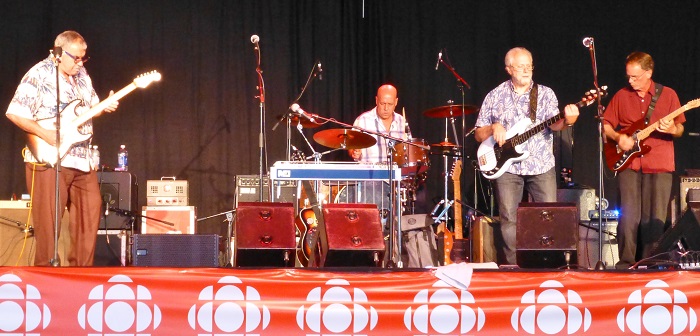 Joe Murphy and the Water Street Blues Band (Gary Potts, Greg Fine and John Eyman – missing Barry Cook) Joe Murphy's Blues Review (photo Stephen Pate)
Joe Murphy is a multi-instrumentalist who sings, plays blues and slide guitar, harmonica and Cajun accordion. Joe has been playing the blues for 40 years and opened for Johnny Lee Hooker and played with Dutch and Garrett Mason.
Joe got together with his regular band "The Water Street Blues Band" and some of his friends.
These are no ordinary friends. They include the creme-de-la-creme of the local blues scene. Bill Stevenson on piano, Carson Downey, Carter Chaplin and John Campbelljohn on guitar were among the guests who sat in for the night of grooving blues music.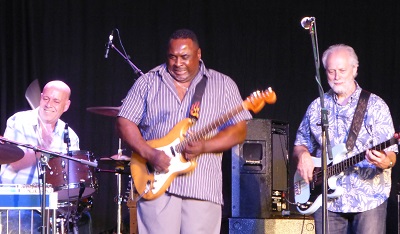 Gary Potts (drums) Carson Downey (guitar) and Greg Fancy (bass) (photo Stephen Pate)
There are few bands like The Water Street Blues Band who have been playing blues together for so long they know the licks and groove.
John Eyman is a versatile lead guitarist who has the right lick for anything thrown at him. "Little" Barry Cook covers the keyboards swinging organ or piano. Gary Potts on drums and Greg Fancy on bass are one solid rhythm section. The band knows Joe Murphy and the follow his every move, albeit with a some eye-rolling mugging from time to time.
Set list
Get the concert at CBC Music.
The concert started with a rollicking version of Chuck Berry's "Promised Land" spiced up with Joe's hot Cajun accordion. That's John Campbelljohn on steel slide guitar.
Guitarist Carter Chaplin joins the band on "Sugar Bee" which features more Cajun accordion, Barry Cook on the keys and Campbelljohn on steel.
Joe Murphy changes to harmonica for the Sonny Boy Williamson tune "Somebody Got To Go" along with Campbelljohn on steel and Bill Stevenson on piano.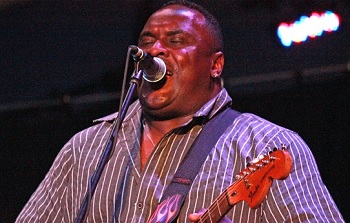 Carson Downey, Joe Murphy's Blues Review (photo Glenn Meisner)
The driving song "Freedom" showcases the gritty blues singing and muscular guitar playing of Carson Downey. His leads before the last verses and at the end are hot. During the concert I kept thinking he might break the neck of his Fender guitar he was playing so hard. The backing singers are Laura Roy and Kirsten Olivia (Dowana). Carson wrote that song with James Logan and Wayne Nicholson. Awesome.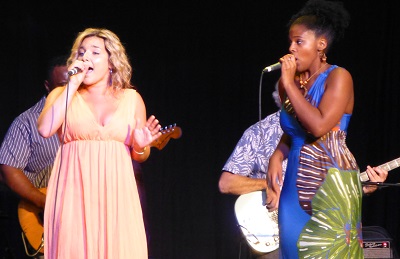 Laura Roy and Kirsten Olivia, Joe Murphy's Blues Review (photo Stephen Pate)
The next song, "Let Me Ride Your Automobile", has guest vocalists Laura Roy belting out the lyrics with Kirsten Olivia (Dowana), with renowned pianist Bill Stevenson on the piano.
The band cooks behind them as the girls give it everything. Boys if your girl wants you that bad you're in luck.
"Forty Days and Forty Nights" is another blues romp for Joe Murphy and the band with Carter Chaplin trading lead licks with John Eyman. I think the dirty lead guitar is Carter. The same song appears twice in the concert.
Joe introduces John Eyman as the lead guitarist on "Bad Influence" and that's John weaving his guitar throughout the breaks. I like the way John stays behind Joe when he's singing and then comes up with a unique and musical lead break.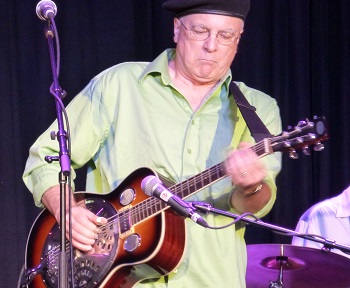 John Cambelljohn "Knocked Down"Joe Murphy's Blues Review, (photo Stephen Pate)
John Campbelljohn steps out of the band for his "Knocked Down" vocal and slide guitar. He howls and growls the song then aces expert slide guitar licks that sound straight from the delta. The band is solidly behind him with Joe on some mean blues harp. Greg Fancy slide into a new insistent propulsive groove here. Everyone is cooking in an awesome song.
Joe changes tempo to swing Gershwin's "Summertime" on the harp and the who band mellows out. Carter Chaplin mellow out as well playing some jazz chords to Bill Stevenson's piano. Listen to Joe get the harmonica in the lowest register. Quite a change-up but perfect.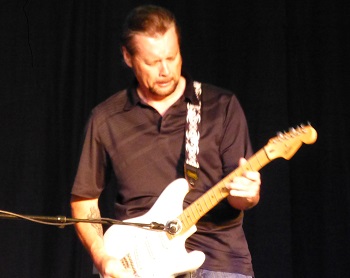 Carter Chaplin, Joe Murphy's Blues Review (photo Stephen Pate)
Bill Stevenson follows with "Lonely Boy" and gets his piano front and center for a riff based blues romp. Bill is a great piano player and gets a boogie going. You can never get enough of Laura and Kirsten who back him on this one. Carter jumps in with more gritty lead work.
John Eyman jumps back in with Joe on a staple of his repertoire Alabama Mike's "How Can A Love So Good Be So Wrong." The vibe here is straight from Saturday afternoons at Your Father's Moustache. Barry Cook is smoking the organ. Greg and Gary just keep the beat.
Man, are the people in Halifax lucky to get this band every week. They know it too. There are people who swear the 2nd set is better than the first and vice versa.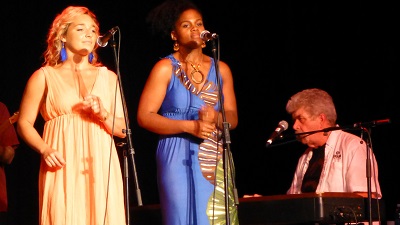 Laura Roy, Kirstin Olivia, and Bill Stevenson – Joe Murphy's Blues Review – Tall Ships 2012 (photo Stephen Pate)
The CBC coverage ends with another take of "Forty Days". Go figure.
Thanks to engineer Pat Martin for the excellent job of recording and mixing down this live concert. I always figured that Joe Murphy and the band needed a live recording. Thanks to Glenn Meisner for producing the show. He told me it will be streamed for one year so go listen know, while you can. You can also find more photos on the CBC site.
Thanks also to Carter Chaplin and Bill Stevenson for helping me sort out their performances and to Kirsten Olivia. Please correct me if I got anything upside down.
Man was that some night.
The performers
Joe Murphy guitar, harmonica, accordion, vocals
John Eyman guitar
Barry Cook piano
Carter Chaplin guitar
Laura Roy vocals
Gary Potts drums
John Campbell John pedal steel, acoustic slide guitar, vocals
Greg Fancy bass
Carson Downey guitar
Bill Stevenson organ, piano, vocals
Kirsten Olivia (Donawa) vocals
Production credits
Glenn Meisner Producer
Pat Martin Recording Engineer
Recordings are under license to CBC for 12 months