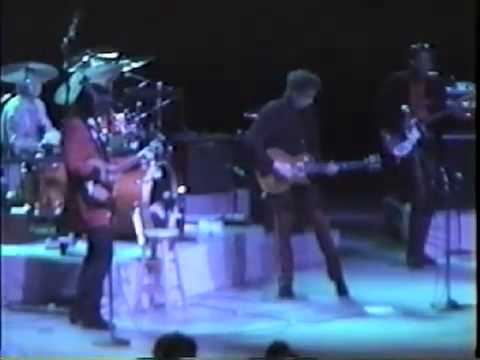 This article was last updated on April 16, 2022
Canada:

Oye! Times readers Get FREE $30 to spend on Amazon, Walmart…
USA:

Oye! Times readers Get FREE $30 to spend on Amazon, Walmart…The Never Ending Tour goes on with a re-invigorated Bob Dylan who will turn 72 in May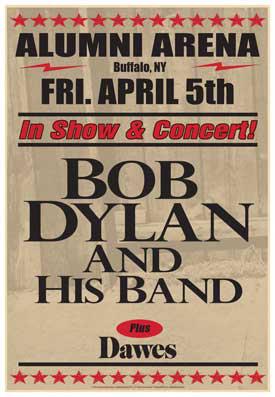 Bob Dylan gave his fans in Buffalo New York at the Alumni Arena something they fans did not get last year – songs from Tempest, his new 2012 CD.
Dylan sent a chill up the spine of unnamed enemies with "Pay in Blood", romanced lovers with "Soon After Midnight", resurrected the ghost of Chicago blues with "Early Roman Kings" and sung about that "flat-chested junkie whore" among other denizens of a modern-day "Desolation Row" with "Scarlett Town." (I embedded impressionistic video of Scarlett Town at the end of the story.)
He opened last with the Academy Award winning "Things Have Changed" from the movie "The Wonder Boys" just to remind the audience that things have and will indeed change. Not only do the songs change but Dylan loves to dish them out in new tunes and arrangements.
Winter brings spring and with it a refreshed Dylan who did not disappoint the audience in Buffalo.
According to coverage in The Buffalo News Bob Dylan shows crowd why he's a living legend . "Indeed, it seemed he meant what he sang, for the show was less about raising the ghost of '60s-era Bob Dylan than it was about burying anyone's expectations of the man".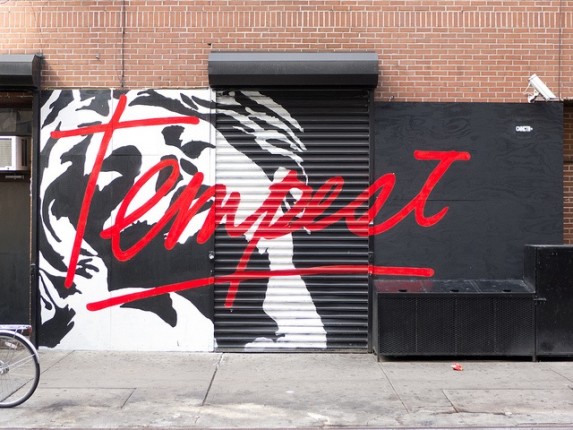 Tempest wall art (photo Flickr withoutnations creative commons some rights reserved)
"Love Dylan or hate him – it most likely doesn't matter to the man himself. He's here to inhabit the present moment, and if that means playing a set heavily slanted toward newer songs, deep cuts from throughout his all-but-peerless career, and revered classics in completely revamped guise, then so be it."
Dylan spent the night standing or sitting at the grand piano for most of the songs except when not center stage on the opener "Things Have Changed", "Love Sick" and "High Water (For Charley Patton).
Fans thrilled to hear him return to center stage later in the evening for the minor classic "Blind Willie McTell".
Minor or major classic, what's to quibble about? All of Dylan's songs are classics but "Blind Willie McTell" is an especially revered panoramic scan of southern black history and the blues that Dylan almost forgot to release.

"Blind Willie McTell" from undetermined concert
Jeff Meirs summed up his coverage of Buffalo with measured words of praise "A very strong Dylan show, then. The addition of Robillard has livened things up a bit, even if the departed Charlie Sexton was surely missed. The set was smartly paced, and Dylan's sometimes exuberant manner carried things along at a nice clip. It's hard to imagine what the many twentysomethings and UB students in attendance made of this living legend."
"They were treated to an above-average Dylan show, though, even if they didn't have anything to compare it to in their own experience."
There were lots of treats in the set list (below) which augers well for those lucky enough to be near and buy tickets for the rest of the tour. Facebook
Tonight April 6th Dylan plays Amherst Massachusetts before meandering around the Eastern United States. This early leg ends at St. Augustine Florida on May 5th. but later dates will fill the summer and fall. I hope against hope he heads my way in Nova Scotia this year.
Bob Dylan new member
As rumor had it last fall, guitarist Duke Robillard is in the Bob Dylan band this year.
Bob Dylan – piano, harp
Tony Garnier – bass
George Recile – drums
Stu Kimball – acoustic rhythm guitar (all songs)
Duke Robillard – electric lead guitar (all songs)
Donnie Herron – banjo, electric mandolin, pedal steel, lap steel
Set List
1. Things Have Changed
2. Love Sick
3. High Water (For Charley Patton)
4. Soon After Midnight
5. Early Roman Kings
6. Tangled Up In Blue
7. Pay In Blood
8. Visions Of Johanna
9. Spirit On The Water
10. Blind Willie McTell
11. Beyond Here Lies Nothin'
12. What Good Am I?
13. Thunder On The Mountain
14. Scarlet Town
15. Highway 61 Revisited
(encore)
16. Ballad Of A Thin Man
Set list with thanks from Bob Links by Bill Pagel where you can find the specific musicians on each song. Thanks to Bill for decades of tirelessly logging Dylan concerts.
You can publish this article on your website as long as you provide a link back to this page.