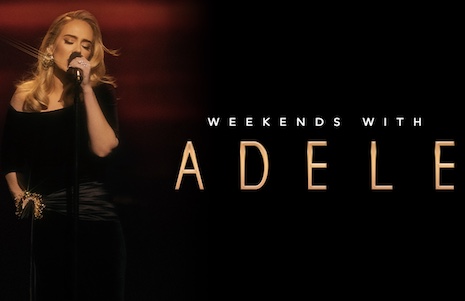 This article was last updated on August 28, 2023
Canada:

Oye! Times readers Get FREE $30 to spend on Amazon, Walmart…
USA:

Oye! Times readers Get FREE $30 to spend on Amazon, Walmart…
Adele Fights the Temptations of Las Vegas
Her residency at Caesar's Palace is a monumental hit, but spending weekends in Las Vegas is NOT doing Adele's diet any favors. The talented songbird dropped a ton of weight since she first made a splash in 2011 with Rolling In The Deep, losing nearly 100 pounds from her heaviest. She still looks great, but is complaining to pals she's having a hard time resisting the fine dining, 24-hour room service, and endless buffets that living even part-time in Las Vegas offers. She's back to wearing mostly black flowing gowns on stage until she loses the extra pounds.
---
Adele's Battle with Temptation
Adele, known for her powerful voice and emotional ballads, has been wowing audiences during her residency at Caesar's Palace in Las Vegas. However, the temptations of a city known for its indulgence and excess have proved to be a challenge for the Grammy-winning artist.
Having successfully shed a significant amount of weight over the years, Adele is determined to maintain her healthy lifestyle. But the allure of fine dining, 24-hour room service, and endless buffets has made it difficult for her to resist.
Friends close to Adele have revealed that she has been expressing her frustrations about the constant temptation she faces while living part-time in Vegas. Despite her efforts to stay on track, the singer has found it challenging to resist the culinary delights that the city has to offer.
---
Resorting to Black Gowns
As a result of her struggles, Adele has made the decision to go back to her signature black flowing gowns for her performances. These elegant ensembles not only showcase her impeccable style but also serve as a disguise for any extra pounds she may have gained.
By opting for black gowns, Adele can create the illusion of a slimmer figure and maintain her desired image on stage. This temporary measure will allow her to continue delivering her captivating performances while working towards shedding the extra weight.
---
Adele's Weight Loss Journey
Adele has undergone a remarkable transformation since rising to fame in 2011 with her chart-topping hit, "Rolling in the Deep." Over the years, she has made significant changes to her lifestyle and diet, resulting in a loss of nearly 100 pounds from her heaviest.
Her weight loss journey has been widely celebrated, with fans and the media alike praising her dedication to improving her health. Adele's incredible achievement has also inspired many people around the world to embark on their own fitness journeys.
However, the allure of the Las Vegas lifestyle has proven to be a stumbling block for the singer. While she continues to work towards her weight loss goals, Adele recognizes the need to resist the temptations that come with residing in a city known for its extravagant offerings.
---
Staying Focused on Health Goals
Although Adele is facing challenges in Las Vegas, she remains determined to stay focused on her health goals. She understands that maintaining a healthy lifestyle is crucial not only for her physical well-being but also for her overall performance as an artist.
Despite the temptations that surround her, Adele has a strong support system in place to help her navigate through the obstacles. Her friends, family, and dedicated team are there to provide encouragement and accountability, ensuring she stays on track.
While it may be difficult at times, Adele's dedication to her health and well-being serves as an inspiration to her fans and serves as a reminder that even in the face of temptation, it is possible to stay focused on one's goals.
As Adele continues to captivate audiences with her incredible voice and heartfelt performances, she remains committed to maintaining a healthy lifestyle and fighting off the temptations that Las Vegas presents.
You can publish this article on your website as long as you provide a link back to this page.