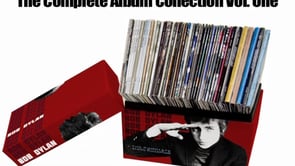 Bob Dylan Complete Album Collection Vol. One: – all 41 albums in a boxed set
The ridiculously expensive $300 Bob-Dylan-every-album-he-ever released just got a $116 price drop on Amazon.com
You may have all or most of the Bob Dylan albums in the new but Columbia Records is hoping they can entice you to part with $180 to get them all in one box set. Pre-sales must have been dismal for the November 5, 2013 release since the set is being discounted $116. Over at Bob Dylan.com you can still pay the full price.
Most Bob Dylan fans already have all the Bob Dylan albums they want. The diehards like myself will have all the vinyl albums, first CD releases, remastered CDs, SACD box set, compilations and all 10 of the official Bob Dylan Bootlegs. Do we need another box set?
On the popular Bob Dylan fan site Expecting Rain, the discussion about the value of a $300 box set is hot and sometimes funny.
On the Clinton Heylin liner notes, panther wrote "Not sure if Clinton Heylin writing the notes is a good idea… aren't there, like, only 5 or 6 albums that he actually liked?"
"Ring Them Tills" wrote songanddanceman a reference to Dylan's "Ring Them Bells."
"What's the difference between Dylan's fan base and a cow?
CBS wouldn't know how to milk a cow…" wrote undertheredsky.
Criticism and witticism aside, the complete box set will appeal to new Bob Dylan fans with small collections, completists and people who want the 14 remastered albums. Although it's hard to judge the value of remastered CDs, most of the early vinyl-to-CD rips are considered substandard today, which only matters if you listen on good speakers or headphones.
Volume Two is expected to include all 10 of the Bob Dylan official bootlegs.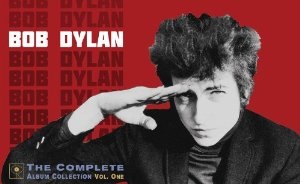 Bob Dylan The Complete Album Collection Vol 1
"The Bob Dylan Complete Album Collection Vol. One is a colossal box set encompassing the entire official discography of the American songwriter-performer who's revolutionized folk, pop and rock music over the past half century with a profoundly influential catalog of songs and sounds.
Beginning with tracks recorded for his eponymous 1962 Columbia Records debut album, the Bob Dylan Complete Album Collection Vol. One follows Dylan's restless transformations across six decades as a singer, a songwriter, a concert performer and a studio artist who's continually finding fresh ways of expressing and exploring the varieties of human experience, worldly and other, with music.
The Bob Dylan Complete Album Collection Vol. One also brings together for the first time, on two "Side Tracks" discs, a wealth of previously released non-album singles, tracks from Biograph and other compilations, songs from films and more.
The collection contains 35 studio titles (including the first-ever North American release of 1973′s Dylan album on CD), 6 live albums, the 2-CD "Side Tracks," and a hardcover book featuring extensive new album-by-album liner notes penned by Clinton Heylin and a new introduction written by Bill Flanagan." Amazon.com
What's in the Box
All 41 official albums, including 14 newly remastered titles
Also includes a 2CD compilation of songs not included on the original albums
All the original artwork reproduced
Hardcover booklet with extensive liner notes and rare photos
The discount has not been applied fully in Canada so I'd order from Amazon.com.
The Canadian cost will be $60 higher through Amazon.ca and the delivery slower.
Bob Dylan Complete Album Collection Vol. One: Studio albums:
Bob Dylan (1962)
The Freewheelin' Bob Dylan (1963)
The Times They Are a-Changin' (1964)
Another Side of Bob Dylan (1964)
Bringing It All Back Home (1965)
Highway 61 Revisited (1965)
Blonde on Blonde (1966)
John Wesley Harding (1967)
Nashville Skyline (1969)
Self Portrait (1970) *
New Morning (1970)
Pat Garrett & Billy the Kid (1973) *
Dylan (1973) *
Planet Waves (1974)
Blood on the Tracks (1975)
The Basement Tapes (1975)
Desire (1976)
Street Legal (1978) *
Slow Train Coming (1979)
Saved (1980) *
Shot of Love (1981)
Infidels (1983)
Empire Burlesque (1985) *
Knocked Out Loaded (1986) *
Down in the Groove (1988) *
Oh Mercy (1989)
Under the Red Sky (1990) *
Good as I Been to You (1992) *
World Gone Wrong (1993) *
Time Out of Mind (1997)
Love and Theft (2001)
Modern Times (2006)
Together Through Life (2009)
Christmas in the Heart (2009)
Tempest (2012)
Live albums:
Before the Flood (1972)
Hard Rain (1976) *
Bob Dylan at Budokan (1979) *
Real Live (1984) *
Dylan & the Dead (1989)
MTV Unplugged (1995)
* newly remastered
Side Tracks:
1. Baby, I'm in the Mood for You
2. Mixed-Up Confusion
3. Tomorrow Is a Long Time (live)
4. Lay Down Your Weary Tune
5. Percy's Song
6. I'll Keep It with Mine
7. Can You Please Crawl Out Your Window?
8. Positively 4th Street
9. Jet Pilot
10. I Wanna Be Your Lover
11. I Don't Believe You (She Acts Like We Never Have Met) (live)
12. Visions of Johanna (live)
13. Quinn the Eskimo
14. Watching the River Flow
15. When I Paint My Masterpiece
16. Down in the Flood
17. I Shall Be Released
18. You Ain't Goin' Nowhere
19. George Jackson (acoustic version)
20. Forever Young
21. You're a Big Girl Now
22. Up to Me
23. Abandoned Love
24. Isis (live)
25. Romance in Durango (live)
26. Caribbean Wind
27. Heart of Mine (live)
28. Series of Dreams
29. Dignity
30. Things Have Changed