This article was last updated on May 27, 2022
Canada:

Oye! Times readers Get FREE $30 to spend on Amazon, Walmart…
USA:

Oye! Times readers Get FREE $30 to spend on Amazon, Walmart…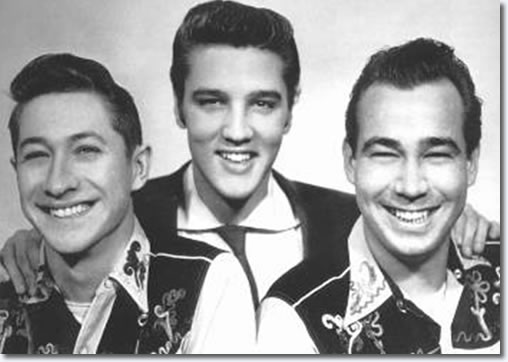 Scotty Moore And The Guitars That Changed History
By Stephen Pate – Scotty Moore turned 83 yesterday alive and well.
Featured image – Scotty Moore, Elvis Presley and Bill Black 1954
Someone tried to spread a false rumor that he passed away. "On Sunday (December 28) the guitarist's reps officially confirmed that Scotty Moore is not dead. "He joins the long list of celebrities who have been victimized by this hoax. He's still alive and well, stop believing what you see on the Internet," they said."

We were trying to decide what to watch on the TV Christmas Day and I suggested Elvis – The Great Performances (3 DVDs). My wife is a big Elvis fan. For me Elvis is the King.
When I was 8-years-old, my older brother convinced me to spend my allowance to buy Elvis Presley's 45 single "Hound Dog" then go to see "Love Me Tender." The rest is history. My brother bought the LPs and I bought the Elvis singles.
Elvis had a one-in-million voice. He could rock the house and his ballads made women swoon. I learned every Elvis song by heart and when I learned guitar it was Elvis I wanted to play.
There was Elvis on the DVD player singing the song that changed history.

"Hold it, let's get real real gone for a change."
"Well, that's all right, mama that's all right for you
That's all right mama, just anyway you do
That's all right, that's all right
That's all right now mama, anyway you do"
All at once in that change of rhythm and feeling, Elvis Presley created rock and roll from country, blues and R&B. Getting "real gone" meant giving over their self-control to uninhibited expression of the rhythm on music, just like the R&B singers in the black juke joints and bars. And for a white country boy, Elvis did a great job of "getting real gone."
Rolling Stone Magazine said that "That's All Right Mama" recorded by Elvis Presley on July 5, 1954 was the first rock and roll song.
"Presley and those who knew him felt that he was the catalyst for a profound transformation, not only in music, but in the American culture that the music both reflected and impelled," said author Grant Maxwell in his book on the three major influencers of rock and roll – How Does It Feel?: Elvis Presley, The Beatles, Bob Dylan, and the Philosophy of Rock and Roll.
Scotty Moore, the man and guitar behind Elvis
Standing beside Elvis was the diminutive guitar player Scotty Moore playing a huge guitar. We all know Scotty Moore's guitar licks because they are famous after 60 years of rock and roll. Keith Richard of the Rolling Stones said while everyone else wanted to be Elvis, he wanted to be Scotty Moore.
Scotty Moore was creating history with his lead guitar. Elvis was supposed to be playing rhythm guitar but he was too far gone singing to add much to the mix. They call Scotty's guitar "the guitar that changed history."
"That's a Wes Montgomery jazz guitar," I told my wife authoritatively after a few more scenes with Elvis, Scotty and Bill Black on standup bass. "They were used for jazz in the 30's and 40's and became popular with rock guitar players."
My wife is used to my act as a guitar expert. She smiled wanly and the music played on.

Later after the show finished I wondered what ever became of Scotty Moore? On Wikipedia, I learned that Scotty Moore (born December 27, 1931) had a long association with Elvis, playing on his records and appearing in movies and the 1968 Come Back Special on TV. I can remember seeing Scotty in Elvis' movies.
Scotty Moore was 83 yesterday. Happy Birthday Scotty Moore! Awesome!
Elvis Presley died August 16, 1977 at 42 years of age. Bill Black died on 1965 at the age of 39 after a post-Elvis career as a recording studio owner.
But Scotty Moore didn't play a Wes Montgomery guitar, which is a Gibson L5. The L5 is a rhythm guitar that Wes Montgomery played with his thumb and no pick or plectrum. Scotty played jazz and country music before Elvis and used a pick for his leads.
Scotty Moore had started playing a Gibson ES-295. The guitar that changed history was the Gibson ES-295 but that's not the guitar associated with Scotty Moore.

In July 1955, Scotty bought a Gibson L5 but with Elvis success decided to upgrade to the guitar that we associate him with, the largest guitar Gibson makes, the Super 400. On January 8th, 1967 Scotty bought his first Super 400 CES, a 1956 model from Chicago Musical Instrument Co. for the princely sum of $735 including a case.
During the 1968 Come Back Special you can see Scotty playing his Super 400 which he loans Elvis for one song. That show was the last time Scotty and Elvis played together or reportedly saw each other.

Today, a new Gibson Super 400 CES will set you back $12,500 to $15,500 depending on the finish. So if you think $10,000 for the Gibson SJ-200 Bob Dylan Autographed Collector's Edition or $5,000 for the Gibson Bob Dylan SJ-200 Player's Edition Acoustic-Electric are too much, you ain't seen nothing yet.
I was partly right about Scotty's guitar but not really since I did not recognize the Super 400. Humbled I decided to research the Gibson Super 400, which derived its name from the selling price when it was released in 1925 which was $400. Similarly the J-45 was a jumbo guitar that cost $45 when it was released.

The Super 400 is a huge guitar with an 18&Prime bout. The Dylan SJ 200 for instance is big but only 17&Prime wide. The Gibson Custom Shop Super 400 CES HSS4VSGH1 Hollow-Body Electric Guitar is only available from Gibson Custom and made in very limited quantities.
Used copies of the Super 400 are available on eBay from $8,000 to $46,000. Price is not always indicative of quality so beware picking the lowest cost guitar if you go that route.
Scotty Moore has had a long and fruitful life. He played guitar on many of Elvis' hit songs and albums. He was in many of Elvis' movies and later became a recording engineer and producer.
Take a few hours and read his interesting website Scotty Moore The Official Website. You can spend hours learning about Elvis, Scotty and other members of the band like Bill Black and DJ Fontana. It contains quite a lot of information and rare photographs.
Footnote – while Elvis said "Hold it, let's get real real gone for a change" the DVD did not show that since the only record is the audio recording at Sun Records.
Follow NJN
Twitter – @sdpate
Facebook at NJN Network
Add the NJN icon to your desktop
Subscribe and get new stories by email
By Stephen Pate, NJN Network
You can publish this article on your website as long as you provide a link back to this page.