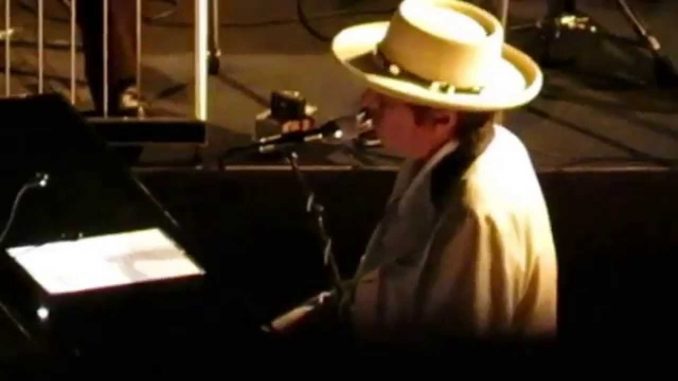 "Stay With Me" was often the last song Bob Dylan sang at the end of the 2014 Never Ending Tour"
By Stephen Pate – Bob Dylan fans who pre-ordered "Shadows in the Night – Bob Dylan" from iTunes got a bonus in their downloads this morning of the song "Stay With Me."
"Featuring ten tracks, the Jack Frost (Bob Dylan) produced album is the 36th studio set from Bob Dylan and marks the first new music from the artist since 2012's worldwide hit Tempest

."
Elizabeth Ramirez captured this video of Bob Dylan singing "Stay With Me" at one of Dylan's last performances of 2014 at The Beacon Theatre, New York City on November 29, 2014. The live performance sounds very close to the released studio version.
"Stay With Me" was often used last year by Dylan as his closing song after "Blowing in the Wind" such as the last Dylan performance of 2014 on December 3, 2014 again at The Beacon Theatre.
Stay With Me
"Stay With Me" is another of the Frank Sinatra ballads Bob Dylan is covering in his unique and eagerly anticipated "Shadows in the Night" album due February 3, 2015.
iTunes will release the song a few minutes after midnight on February 3rd. This is the 2nd song iTunes has pre-released. We also got "Full Moon and Empty Arms" on December 11, 2014.
The song was composed by Carolyn Leigh & Jerome Moross and sung by Frank Sinatra in 1963 as the main theme for motion picture The Cardinal.
It certainly is a plaintive song, a song about waiting for God when one is old and humble.
Should my heart not be humble, should my eyes fail to see,
Should my feet sometimes stumble on the way, stay with me.
Like the lamb that in springtime wanders far from the fold,
Comes the darkness and the frost, I get lost, I grow cold.
I grow cold, I grow weary, and I know I have sinned,
And I go seeking shelter and I cry in the wind.
Though I grope and I blunder and I'm weak and I'm wrong,
Though the road buckles under where I walk, walk along.
Till I find to my wonder every path leads to Thee,
All that I can do is pray, stay with me,
Stay with me.
You can order "Stay with Me" as well from Amazon.com from Shadows In The Night

if you live in the United States or another country with Amazon.com digital services.
Shadows In The Night

is available for pre-order in the United States, Amazon.ca in Canada

and Amazon.co.uk in the United Kingdom

where it will be available one day early on February 2, 2015.
Also available from iTunes "Shadows in the Night – Bob Dylan" as I said.
Featured image – Bob Dylan at The Beacon Theatre (Photo credit © Andrea Orlandi used with permission)
Follow NJN
Twitter – @sdpate
Facebook at NJN Network
Add the NJN icon to your desktop
Subscribe and get new stories by email
By Stephen Pate, NJN Network