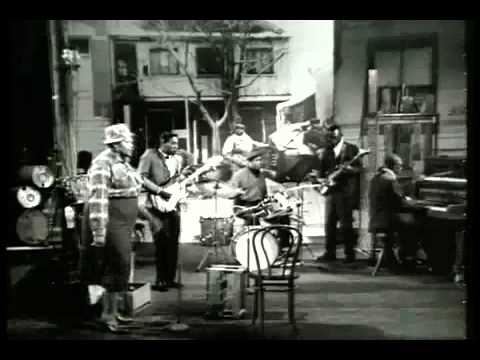 Leiber and Stoller wrote "Hound Dog" for blues singer Big Mama Thorton and not for a novelty act
By Stephen Pate – Jerry Leiber and Mike Stoller may have been white Jewish boys from Philly and Long Island but they wrote authentic black music, music that made hits for great R&B and rock artists.
That didn't stop Bob Dylan from taking a swipe at Leiber and Stoller when he received the Grammy's Musicares award.
Featured image Bob Dylan speaks onstage at the 25th anniversary MusiCares 2015 Person Of The Year Gala at the Los Angeles Convention Center on February 6, 2015 in Los Angeles, California. Michael Kovac/WireImage
"I didn't really care what Leiber & Stoller thought of my songs. That was all right they didn't like them. 'Cause I didn't like their songs, either," Dylan said of the "Hound Dog" writers. "Yakety yak, don't talk back. Charlie Brown is a clown. Baby, I'm a hog for you. Novelty songs. They weren't saying anything serious." Rolling Stone
While Elvis Presley, not someone who another rock star should dismiss, might have changed "Hound Dog" to seem more trivial, the original song was written by Leiber and Stoller for Big Mama Thornton.
Big Mama Thornton recorded that in 1952 with Buddy Guy the great blues guitar player. The song was about Big Mama's man who she thought was worthless because he was unemployed and shiftless.
"We saw Big Mama and she knocked me cold. She looked like the biggest, baddest, saltiest chick you would ever see. And she was mean, a 'lady bear,' as they used to call 'em. She must have been 350 pounds, and she had all these scars all over her face" conveying words which could not be sung. "But how to do it without actually saying it? And how to do it telling a story? I couldn't just have a song full of expletives."
In 1999, Leiber said, "I was trying to get something like the Furry Lewis phrase 'Dirty Mother Furya'. I was looking for something closer to that but I couldn't find it, because everything I went for was too coarse and would not have been playable on the air."
Using a "black slang expression referring to a man who sought a woman to take care of him", the song's opening line, "You ain't nothin' but a hound dog", was a euphemism, said Leiber The song, a Southern blues lament, is "the tale of a woman throwing a gigolo out of her house and her life" Wikipedia
You ain't nothin' but a hound dog
Quit snoopin' 'round my door
You can wag your tail
But I ain't gonna feed you no more

Elvis Presley recorded Hound Dog in 1956 and changed the lyrics, removing the most obvious sexual double-entendres, giving the song a country feel. it was still rock and roll but it wasn't juke joint R&B anymore.
You ain't nothin' but a hound dog
Cryin' all the time
You ain't nothin' but a hound dog
Cryin' all the time
Well, you ain't never caught a rabbit and you ain't no friend of mine
Elvis did something worse: he shook his pelvis without any doubt as to his intentions. The words may be country but the stage act was almost male burlesque in this live performance. Elvis put the sex in rock and roll that R&B only hinted. There were male artists like Muddy Waters that used their hips but of course they were not allowed on network television like Elvis was.
While Bob Dylan may have a grudge against Leiber and Stoller, his opinion that they wrote only "Novelty songs. They weren't saying anything serious" is not supported by the facts.
Leiber and Stoller wrote two types of songs – R&B rockers and novelty songs. Bob Dylan wrote plenty of novelty songs himself.
Great timeless songs that Leiber and Stoller wrote for black musicians include Kansas City, There Goes My Baby, Smokey Joe's Cafe, Stand By Me with Ben E. King, Searchin', On Broadway, Tell Him, Ruby Baby, On Broadway, Spanish Harlem and Peggy Lee's great song about aging Is That All There Is.
"In all, Leiber and Stoller wrote or co-wrote over 70 chart hits. They were inducted into the Songwriters Hall of Fame in 1985 and the Rock and Roll Hall of Fame in 1987."
In The History of Rock and Roll, Jerry Leiber said they lived with black artists in Los Angeles, had black girl friends, hung out in black clubs when they were the only white boys in the place.
I believe them because they wrote authentic songs that for us became the soundtrack of rock and roll in the 1950s.
For a good idea of their lives check out the excellent series The History of Rock and Roll


Jerry Leiber and Mike Stoller Documentary by audreywop
Edited to correct the spelling of Mike Stoller
By Stephen Pate, NJN Network