This article was last updated on May 27, 2022
Canada:

Oye! Times readers Get FREE $30 to spend on Amazon, Walmart…
USA:

Oye! Times readers Get FREE $30 to spend on Amazon, Walmart…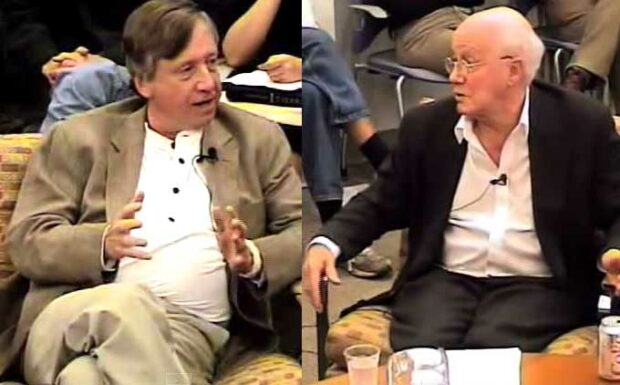 Bob Dylan in the cross-hairs – Sean Wilentz and Christopher Ricks take sides
By Stephen Pate – Dylan historian Sean Wilentz and Dylan poetry critic Christopher Ricks squared off at a symposium in New York City. It was the Yank versus the Brit – the historian versus the poetry scholar. What they agreed and disagreed upon makes interesting reading. For more about the books and music cited, and Wilentz and Ricks, see Sources and the article End-note.
Bob Dylan – is he an innovator or custodian of history?
Sean Wilentz – Bob Dylan did say that in an interview, by the way, that he owned the 60's, but he said it was high irony.
He said to the interviewer, "Do you want to buy them? I'm sick of them."
In fact, he's really a product of the 40's and 50's, and that has to always be borne in mind, and I suppose with the latest work, which you see a lot in the latest album (Together Through Life) actually, because it's all songs from sort of 1943 to 1953.
It's important to remember that, I think, because his relationship to what we think of as the pop music of the 60's. He's older than most of these people, and he comes from a different time and place, not just Hibbing and all that, but a different time.
What he's invented comes in part out of that time, and the things that he experienced as a young man growing up amidst World War II, not that far out of the depression, in a very hard-struck part of the world. That comes across very clearly in some of the early songs, but the sensibility never, never leaves him. It's something that I think people forget. He's inventing, in part, out of that.
You always wanted to know something about what we … why we're doing what we're doing. I have no idea what we're doing. I don't know why you're doing it. I'll tell you what I'm doing.
My relationship to Bob Dylan has been on and off, as it were. I grew up in the Village. My dad owned a bookshop, right in the middle of all of that. Bob Dylan used to come in and buy books. I used to sell them to him, because my father believed in child labor, growing up. Actually, that's a joke, but I would work hard there.
By Stephen Pate, NJN Network
You can publish this article on your website as long as you provide a link back to this page.