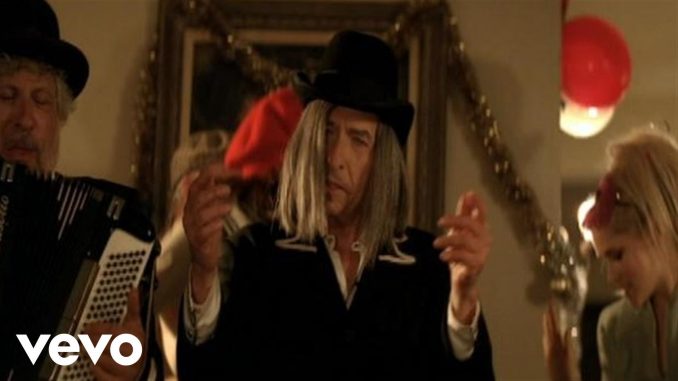 Bob Dylan in the cross-hairs – Sean Wilentz and Christopher Ricks take sides – Part 3 Christmas in the Heart
By Stephen Pate – Third in the series. Dylan historian Sean Wilentz and Dylan poetry critic Christopher Ricks squared off at a symposium. It was the historian versus the poetry scholar. They agreed on one thing – Christmas in the Heart. The second article in the series is If I Were Christian, I Would Be The Bob Dylan Kind.
Bob Dylan's Christmas in the Heart Is Folk Music
Sean Wilentz – Want me to defend Christmas In the Heart

for a sec?
Go out and buy this record. Your $9.99 will go to charity, first number one. I think that's serious.
I meant that very seriously. It's going to go to feed hungry people. I said this in this review. I said he's being the Woody Guthrie song "Pretty Boy Floyd". Pretty Boy Floyd sticks up banks and gives Christmas dinner to the families on relief.
That's what Bob Dylan's doing. He's giving Christmas dinner to the families on relief, so that's number one.
The music is from the 40s and 50s. It is old Christmas songs. Look, if America's had a folk music since 1930, or since commercial recording, what is that folk music going to be? It's going to be Christmas songs.
Everybody knows Christmas songs. People who don't even know Bob Dylan songs know "White Christmas". This is Christmas imperialism, as I've come to call it. It's terrible. It's awful. Christians, Muslims, Jews; we all have to sing "White Christmas".

He sings those songs, the songs that he was surrounded by as a boy growing up in Hibbing, as a Jewish boy growing up in Hibbing. It's an evocation of the past.
He's got … what's the name of the 2-girl group? The Ditty Bops. He has the whitest white bread singers you have ever heard, backing him up.
You are instantly taken back to another place, yet beneath it all, there is his music as well. Donnie Herron is there on the pedal and steel; it's very, very subtle.
He does a polka song, which is to die. He does "Must Be Santa".
You have to understand that in Hibbing in the Midwest generally, in the 40's and 50's, polka was a big deal. You heard polka all over the place, with such stars as Whoopee John Wilfahrt. It's a true name, with an "H" … F-A-R-H-T, and Frank Yancovic, who I think may be related to Weird Al Yancovic, I'm not quite sure how.
Anyway "Must Be Santa" is a song that is a polka song. He uses an arrangement from a contemporary Texas rock polka group (Brave Combo), but again, it brings us back in that time.
He sings it with great joy. It's a joyous album. If you want to enjoy Christmas, I don't care what your religion is, or no religion. I have no religion, but I enjoy that record. I enjoy that sentiment, for the same reason I enjoy reading Dickens on Christmas, for the same reason I enjoy the best of Christmas, is that, and it's in that record. That's my defense.
Christopher Ricks – It solves the Christmas present problem, and the opposite, because everybody's giving it to one another. You don't get any presents this year. I've given one to each of my 7 children. I don't know that they would all appreciate it equally, but something of that.

It's not very religious, is it? I think you're praising it for that, and I think you're right.
Sean Wilentz – No, no.
Christopher Ricks – I wouldn't want to push aside the religion. He's always been a really religious artist, hasn't he, and those who are not religious, that's … religious people have had more problems with him than atheists.
Sean Wilentz – That's true.
Christopher Ricks – I just regard myself, in "Who's Who", I'm an atheist.
John Silber, the rather controversial former president of my university, wrote me a note just now saying, "Bob Dylan's brought out Christmas songs. They're enough to make anyone an atheist."
He did go on to say, "I know beauty is in the ear of the listener, and you probably think it's the voice of an angel."

The answer is, I do. John Silber used to call him Dylan Thomas all the time, to annoy the hell out of me. He'd say, "Your love of (Dylan Thomas)…" and then he'd correct it and so on.
These aren't truly religious songs, are they? They are festivity songs. They're seasonal songs, even "Adeste Fideles."
Sean Wilentz – It's not an irreligious …
Tomorrow – Bob Dylan The Borrower
Sources
If you want any of the source books or music, please click the links. It helps to pay for this website. I have researched the best sources and prices and appreciate your support. For more on our advertising policies and ethics, please see Our Advertisers.
iTunes – Bob Dylan
End Note
Sean Wilentz is a noted historian and the author of
Bob Dylan in America

, the highly regarded book about Bob Dylan's place in history and American history in particular.
Christopher Ricks wrote the definitive book on Bob Dylan's lyrics as poetry – Dylan's Visions of Sin

, one of my favorite books on Bob Dylan. Ricks is also the editor of the extra-large art book The Lyrics: Since 1962

containing all Bob Dylan's lyrics with variations.
The discussion took place at The Philoctetes Center for the Multi-Disciplinary Study of the Imagination. You can watch the symposium on YouTube although it's tediously long at 1 hour and 49 minute.
Follow Stephen Pate
Twitter – @sdpate
Facebook at NJN Network
Add the NJN icon to your desktop
Subscribe and get new stories by email
By Stephen Pate, NJN Network