This article was last updated on May 27, 2022
Canada:

Oye! Times readers Get FREE $30 to spend on Amazon, Walmart…
USA:

Oye! Times readers Get FREE $30 to spend on Amazon, Walmart…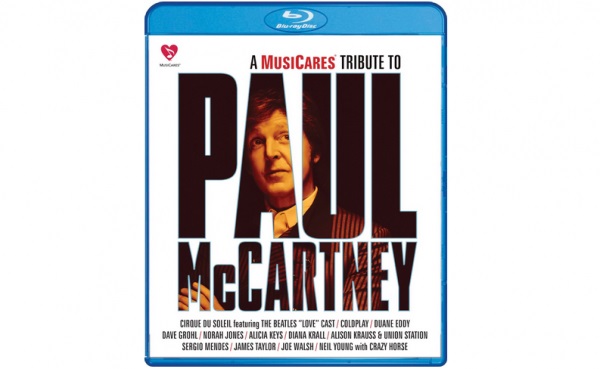 MusiCares Tribute To Paul McCartney is the most exciting 60 minutes of music video in ages
By Stephen Pate – Shout Factory just released A MusiCares Tribute To Paul McCartney. It is without a doubt the most exciting 60 minutes of music video I have watched in ages. The show builds on fans love for McCartney with enough variety and top performances to hold my interest and build to a strong climax.
The Blu-ray is stunningly clear, the sound is dynamic and the performances build rock excitement one after another until the hair-raising finale of Paul McCartney, Dave Grohl, Joe Walsh, tour band guitarists Rusty Anderson, and Brian Ray in a guitar duel on "The End", the climactic medley from Abbey Road. After watching it once, I jumped up and said to my wife "You've got to see this totally awesome video!"
McCartney's tour band backs most of the performers on the disc which gives them the edge and keeps the show from bogging down into weak covers. Rusty Anderson (guitar), Abe Laboriel Jr. (drums), Brian Ray (guitar) and Wix Wickens (keyboards) have backed McCartney for more than 10 years and have the songs down cold. Anderson and Ray more than hold their own against Joe Walsh and Dave Grohl in the guitar duel which is fun to watch.
Two years ago at the Grammy's, the artists put on a grand show including Paul McCartney's guitar duel with Dave Grohl and Joe Walsh on the The End (See – Grammys 2012 Paul McCartney Golden Slumbers The End).
After watching the 2012 show, I wondered why the deuce the National Academy of Recording Arts and Sciences (NARAS) does not release videos of the best performances. The bootlegs on YouTube are OK but they fail to capture the excitement of the real performances. Compressing rock music on YouTube does exactly that – it compresses the excitement.
Impulsively I sent Neil Portnoy, the President of NARAS and the man who leads the Grammy's, a message the next day. "You are missing a source of revenue by not releasing the Grammy shows on DVD and Blu-ray", I said.
While I doubt Portnoy reads my emails I was pleased to see the announcement of A MusiCares Tribute To Paul McCartney and the pre-release news about the Bob Dylan MusiCares February 2013 tribute. See Dylan MusiCares Shall Be Released.
The Blu-ray starts with Cirque du Soleil performing a medley of "Get Back/Hello Goodbye" and "Sgt. Pepper's Lonely Hearts Club Band". I'm not a big fan of Cirque but had to admit it might have entertained in the theatre. Then McCartney and his band segue into "Magical Mystery Tour" and wind up the excitement with "Junior's Farm." The fun begins.
Alicia Keys followed with "Blackbird" in a performance that shines on the disk while paling on YouTube. McCartney wrote "Blackbird" in 1968 about racial disruptions in the US. Alicia says that the song was written for her and suddenly her soulful performance makes sense.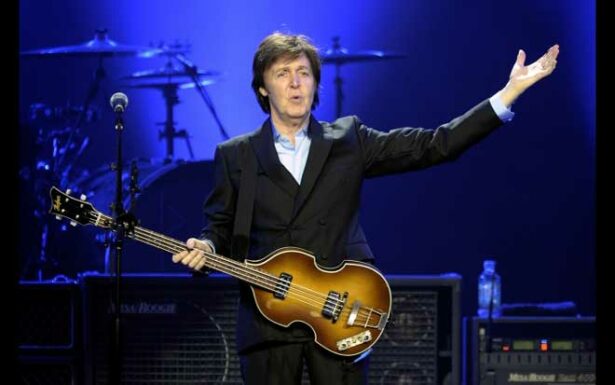 Alison Krauss sang "No More Lonely Nights" beautifully. I wonder if she is wasting her time limiting herself to bluegrass country.
Duane Eddy is a surprise with his tasteful guitar solo on the ballad "And I Love Her" backed by Joe Walsh. He was a blast from the past with his twangy Gretsch guitar sound.
Norah Jones sings "Oh! Darling" as a dreamy rock ballad. The show was almost grinding to a halt when Neil Young stepped up to grunge rock "I Saw Her Standing There." It was a most unlikely pairing of artist and song but Neil blew everyone away with his energy.
Sergio Mendes, the 1966 bossa nova, jazz and funk artist, followed with a Latin flavored version of "The Fool on the Hill" which was surprisingly fun. I thought Coldplay was going to die on "We Can Work it Out" but they caught their groove after the first verse and brought the song home.
James Taylor and Diana Krall traded vocals on "Yesterday" and "For No One". If there was a flat spot it was James Taylor but only by a tad. Diana Krall is exquisitely jazzy as always. She is a class act.
Paul had just released the CD Kisses on the Bottom when this show was put together so no surprise that he performs "My Valentine" here with Joe Walsh doing his surprising classical guitar lead.
McCartney winds the band up for "Nineteen Hundred and Eighty Five" and goes directly into the climax medley of "Golden Slumbers/Carry That Weight / The End." Like I said, the excitement was building until the hair was standing up on the back of my neck for "The End." It was a totally awesome 60 minutes.
Tony LiPuma, who produced "My Valentine" and the CD Kisses on the Bottom, was the musical producer for the show. While some might argue for more rock songs than ballads, the show holds together as a whole and delivers a big emotional hit. It's hard to argue with that.
The sound on the Blu-ray is DTS-HD and PCM Stereo. I preferred the PCM sound which is less compressed but only by a small margin.
Proceeds from the Blu-ray will go to the MusiCares foundation that provides help to performers with medical, personal or other financial needs. It's a great idea since it's more likely musicians will end their lives in need than be comfortably wealthy.
Get the video
Amazon.com – A MusiCares Tribute To Paul McCartney (Blu-ray) for $19.98 or DVD for $15.28.
In the UK from Amazon.co.uk for £9.50 (US $14) – release May 11, 2015
In Canada from Amazon.ca for $22.97.
5 / 5 stars
You can publish this article on your website as long as you provide a link back to this page.