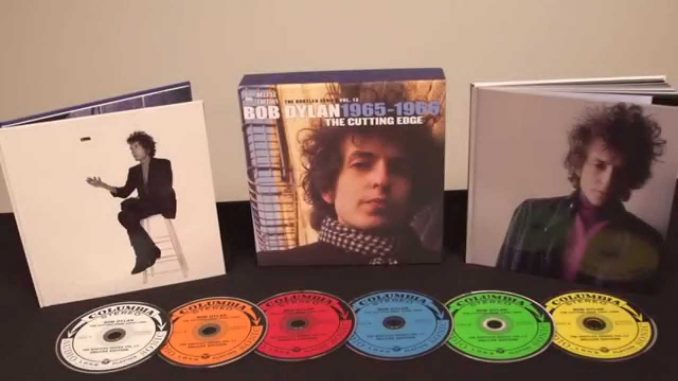 Listen to a sample of what is coming on November 6th in The Bootleg Vol 12
By Stephen Pate – Bob Dylan fans have gotten accustomed to their annual pre-holiday dose of Bob Dylan rarities. I've put together links to preview music and contents for this year's package, along with brief recommendations.
You can preview this year's The Cutting Edge 1965-1966: The Bootleg Series Vol. 12 by listening to The Cutting Edge 1965 – 1966: The Bootleg Series Vol. 12 (6 CD Deluxe Edition)

streaming on
NPR
. Streaming will likely end when the CD set is released on November 6th, 2015.
Boxed sets usually contain tons of extras like books, photos and other collectibles. You can also preview what you get in the Deluxe 6 CD edition in this un-boxing video.
This year the folks at Sony Music / Columbia Records are mining the vaults for all the studio outtakes from Dylan's very productive 1965-1966 period.
During a 14 month span in 1965 and 1966 Bob Dylan morphed from folk artist to rock blues and drug infused poet songwriter with three highly acclaimed albums – Bringing It All Back Home

, Highway 61 Revisited

, and Blonde on Blonde

.
The obvious peak of Dylan's output was the 7-minute-opus "Like A Rolling Stone." Many people believe he never achieved the same level of creative output again, although that is arguable.
While some of the studio outtakes have been released before, The Cutting Edge 1965-1966: The Bootleg Series Vol. 12 is for completists.
There are 3 versions of The Cutting Edge –
1) the 36-song 2-CD The Best Of The Cutting Edge – Amazon.com

, Amazon.ca

, and Amazon.co.uk

2) – The Cutting Edge 6 CD Deluxe Edition – Amazon.com

, Amazon.ca

, Amazon.co.uk

and
3) the 18-CD complete Collector's Edition which will set buyers back a whopping $599.00 US. In Canada that makes it $784 and in the UK $388 pounds sterling. Yikes!
Choices, so many choices. Unlike earlier bootleg collections there aren't many new songs in this release. My first recommendation is to listen to the original albums that represent what Dylan thought was his best work at the time. That may be all you need.
Second, listen to the 18-song sampler in the NPR link. That's about half of what you get in "The Best Of…"
If your curiosity is piqued for more you can buy either the 2-CD set or the 6-CD set. Most people will find either of those enough or too much.
As one Amazon.com user said "Listening to a song developing sounds good on paper but in reality can become quite tedious and some times boring. I couldn't listen to a disc of this nature too many times, after my first curious listening."
I would take 99% of the reviews of this bootleg set with a grain of salt. Most fans will be bored by the outtakes. Researchers and budding songwriters might learn something from Bob Dylan's craft.
If you want to learn more about this period in Dylan's career, check out the articles on Wikepedia – Bringing It All Back Home; Highway 61 Revisited; and Blonde on Blonde. Each article provides a good synopsis of the albums and can be a starting point for further research.
By Stephen Pate, NJN Network