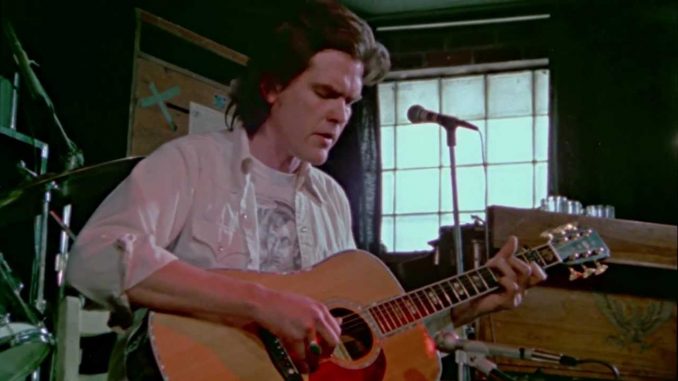 This article was last updated on April 16, 2022
Canada:

Oye! Times readers Get FREE $30 to spend on Amazon, Walmart…
USA:

Oye! Times readers Get FREE $30 to spend on Amazon, Walmart…

"Heartworn Highways", starring Guy Clark and Townes Van Zandt, is country music's equivalent to the film "Don't Look Back" that captured Bob Dylan at a pivotal moment in his career. The 1975 documentary captures the outlaw country music trend popularized by Waylon Jennings, Willie Nelson and their cohorts.
By Stephen Pate – 40 years after it was filmed, the country cult film "Heartworn Highways" is getting a re-release.

It was the new generation taking over from the 1940's and 50's artists who created country music and who dominated Nashville.
"Heartworn Highways" is a mysterious documentary filled with country music performers fueled by Jack Daniels. In the non-linear style of "Don't Look Back" it follows the outlaw country artists, telling a stories but leave enough unspoken to keep you going back for repeated viewings. I've seen it 5 times in 2 months and still can't get it out of my mind.
The Film
In 1975 a British producer and New York director drove across the US South to capture the emerging outlaw country music trend. The film, originally entitled "New Country", would be called "Heartworn Highways". With a limited first release in 1981, the documentary became a cult classic seen by only a few in limited releases to art film houses.
By 1975, big country stars like Willie Nelson, Kris Kristofferson and Waylon Jennings were already making their mark. However, director James Szalapski wanted to capture the spirit of the outlaw movement away from the money and success driven Nashville establishment.

With guidance from Dennis Sanchez a Nashville bassist, the director cast Texan singer songwriters Townes Van Zandt and Guy Clark as the keys to his documentary.
Along with Van Zandt and Clark, the movie introduces Steve Earle ten years before his Guitar Town hits, Rodney Crowell a year before he joined Emmylou Harris' band, Steve Young before The Eagles' hit of his Seven Bridges Road, The Charlie Daniels Band two years before the Devil Went Down to Georgia, and John Hiatt.
Except for Charlie Daniels who was a Nashville veteran, these country artists were in the early stages of their careers and would later breakout with success. Guy Clark mentored many of the young songwriters from his home outside Nashville, like the young Steve Earle who in turn idolized Van Zandt.
The movie pivots between Clark's Nashville, Tennessee home which functions as a jam center and Van Zandt's trailer in Austin, Texas. We also see performances in a small Nashville bar the Wig Wam Tavern, and a prison concert by the glitter country artist David Allen Coe. In other scenes we watch a song evolve during a studio session and country scenes from across the South.
For the most part the music is old style country music played on acoustic and Dobro guitars. Those songs stick in my brain. We also see the Charlie Daniels Band on stage ripping it up, Barefoot Jerry the super group of Nashville A-studio musicians perform in a club and a couple of other performers.
Due to its uncompromising style and limited budget, Heartworn Highways did not get distribution in 1976 when it was in the can. It didn't help that the director used a non-narrative style and refused to include famous artists. Willie Nelson, for instance, offered to perform and was turned down as too commercial. "Heartworn Highways" was a movie about emerging artists not stars.
A limited released on DVD in 2005 helped to spread the word about Heartworn Highways as a cult favorite. Clips showed up on YouTube which is where the film first caught my attention. The clips are interesting but they don't fully capture the film's mood. They are a good place to decide if the music suits you.
Some of the artists in the movie are gone and some are still with us. Dennis Sanchez died of a heart attack before filming started and the film is dedicated to his memory. Director James Szalapski died in 2000. Townes Van Zandt died in 1997. Steve Young and Guy Clark just died this year in 2016.
Steve Earle is still on the road performing his songs and those of Townes and Guy. John Hiatt tours regularly. Rodney Crowell has toured with Emmylou Harris and as a solo artist ever since. Charlie Daniels is still around and plays infrequently. The movie captures that moment in time when they played in the same circles.
In the Box
It was a huge job restoring the soundtrack as complete songs since many of them had been shortened to match scenes in the movie. The MP3 songs download in both Mac and Windows formats.
The sound on the vinyl is intimate and pristine. The sound track stands on its own as a great record.
Sam Sweet's 20-page booklet that accompanies CD, DVD and vinyl is a shortened version of the 80-page book in the box set. It is frank, well documented and an interesting account of the film, artists and crew. It fills in the blanks on the questions left after watching the movie.
Where to find the Heartworn Highways
You can get the box set for a limited time at Amazon.com. There are also 2 copies listed on Amazon.co.uk in the United Kingdom and 8 copies available from Amazon.de in Germany.
The CD, vinyl and DVD are also available separately:
The DVD may be old stock from the 2005 Australian release. The publisher Light-In-The-Attic Records don't show this as released yet. The iTunes download is newly remastered with excellent quality except none of the extras (outtakes)are included.
By Stephen Pate, NJN Network
You can publish this article on your website as long as you provide a link back to this page.