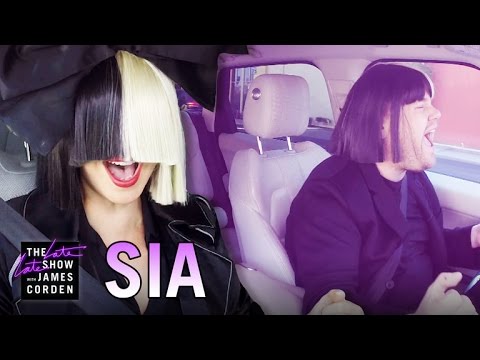 Sia (Good Morning America photo)
SIA's unusual 20-year road to super stardom that almost didn't happen
By Stephen Pate – Anyone my age who sees Sia for the first time is likely to dismiss her as freaky. After the umpteenth time you might still say "Whaaa!!!".
Sia's 23 week rise to the Billboard Top 100 is with a catchy song about going out on the weekend for some low cost fun set to a powerful reggae beat.
Sia is one of the best new female singer/songwriters in the pop market today. Her soaring voice can hold those high notes with passion and control then shift into the mid-register with smooth ease. While not a challenger to Beyoncé the reigning queen of pop, Sia sings with power, emotion and appeal that make her a top singer. She also writes songs with clear melodic and lyrical hooks, something that sets her apart from the pack.
Sia's Top Music
Along with Cheap Thrills, Sia's top songs include Alive, Unstoppable, and Chandelier. Bird Set Free hasn't charted yet but I predict it will when Cheap Thrills starts to cool.
Sia's Top albums are the last two since 2014 1,000 Forms of Fear and This Is Acting . Both are solid and contain her major hits.
Who is Sia?
Sia, AKA Sia Kate Isabelle Furler, is the 41-year-old superstar of pop music whose hit "Cheap Thrills" has topped the Billboard 100 for the 2nd week after 24 weeks on the charts. Pop music is sometimes used negatively by critics but not me. Most of the songs we remember were pop songs which really means popular.
Sia hides behind a harlequin's hat and wig, standing almost motionless at rear stage. Not since Miles Davis performed with his back to the audience has anyone avoided the center stage spotlight with that much determination.
Sia performs with Maddie Zeilger, a 14-year-old female dancer, in the same black and white wig, allowing the dancer, or sometimes dancers, to take center stage. It feels like you stepped into a Modern Dance performance by accident.
Ziegler is obviously Sia's alter-ego and some of the videos have caused controversy over Maddie's age and flesh colored dance costumes. It's more parents than fans who are offended. Some TV performances have used other costumes but it is not unusual for music or art to challenge sensibilities.
Sia has a powerful and expressive voice but it still seems more like a weird art-music act at first pass. Once I got past the strange act, her singing grew on me. Her segment on Carpool Karaoke with James Corden was hilarious.
Her 2014 release of "This Is Acting" has an almost repulsive picture of Maddie Zeigler mugging on the cover.
Behind the mask is a huge artist with a 20 year career that almost ended a few years ago when she retired for health reasons. Sia told reporters she suffers from anxiety, depression and substance abuse.
In what seems at first blush an overnight sensation Sia's audiences have embraced Sia as the music sensation of 2016. Her YouTube videos have more than half a billion views and she is just hitting her stride on sales and downloads.
I have to admit that after months of scratching my head, I am a convert to Sia after watching her do "Cheap Thrills" and "Chandelier" on Good Morning America. It helps to know her backstory of a musical career off the rails due to depression and substance abuse.
Cheap Thrills – the breakout hit
Cheap Thrills is Sia's first #1 song on the Billboard 100. Along with an almost motionless Sia standing in the rear of the state with the black and white wig it features the dancing of Sia feature dancer Maddie Ziegler and 2 make dancers. The song with its strong reggae beat was written for Rhianna but she turned it down. Rhianna's bad and Sia's good luck on that move.
Along with performance, she refuses to show her face for interviews. The simple explanation is she doesn't want to become famous and recognizable. Check out this touching interview she gave Nightline.
After performing in various bands and solo for 15 years, in 2010 she quit showbiz and went into recover from her career, depression, alcohol and drug abuse. Coming out of a 12-step recovery program she decided to become a songwriter who wrote hits for Beyoncé, Rihanna, Christina Aguilera, Katy Perry and Adele.
Since 2014 she has released 2 albums 1,000 Forms of Fear with "Chandelier" and "Big Girls Cry", and This Is Acting with "Unstoppable", "Alive" and the megabit "Cheap Thrills."
At Coachella 2016, Sia's performance with Maddie Ziegler was one of the top sets by any artists. She wowed fans and got the major promoters looking at her again.
Maddie Ziegler – Sia's performance secret sauce
Sia had other dancers before Maddie Ziegler but they did not create the same sensation. Maddie Ziegler started performing with Sia when she was 11. She was already a professional dancer. However, her work with Sia has raised her career to world-wide recognition.
Watching Sia's videos over the past 3 years gives you a unique view of the evolution of Maddie's dancing as she has grown from a pre-teen to young childlike woman.
Does the wig/hat/dancer performance concept work? For 100's of millions of young fans it turns them on to Sia. It has freed Sia to express herself without fear and reservation to become one of the most recognizable and popular artists of today.
Once you get passed its unique character of course it can work for boomers too. Put yourself back in the 1960's. You're out clubbing in New York City and you drop into a new club with a new hot act that is using modern dance on stage. It's freaky and its cool.
Sia's success at Coachella and with "This is Acting" has encouraged her to begin a world tour starting August 9th.
To get Sia's music on your smart phone, go to iTunes Store, iTunes Music or Amazon.com.
For more about her career and life, check out Wikipedia. Sia's fan site is siamusic.net.
By Stephen Pate, NJN Network