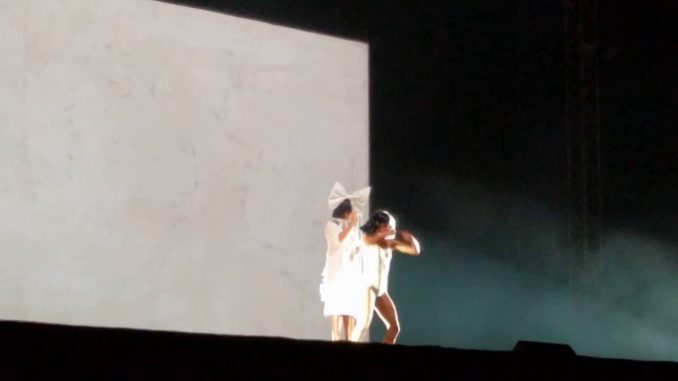 Sia with Maddie Ziegler in Tel Aviv (photo by Yuval Arel)
By Stephen Pate – Thanks to one of the 48,000 fans who saw Sia Furer perform in Tel Aviv you can watch many of the performances on YouTube.
This was the second stop on Sia's worldwide Nostalgic For The Present tour.
Alive

The stage was a simple white back screen with Sia stage right rear and Maddie Ziegler along with 2 other dancers taking up the whole stage.
Unstoppable
Some critics complained the show faithfully recreated the pop-art videos for each song. Go figure.
"She was motionless for 61 minutes, wrote Rami Yitzhar in News-Israel.net" She "did not say a word until the last minute, then blurted out something and disappeared."
I have to assume the critic never watched a single Sia video, the ones that over 5 billion views on YouTube. He should have done some research.
Diamonds
Sia did not come out of her costume of black and white face wig and huge white bow hat. Both of those have propelled her to super stardom.
One critic said he felt cheated when she did not move during the whole performance. He threatened a class action lawsuit. Again, I guess he never saw the videos.
Titanium
The audience near the videographer seemed to enjoy her powerful performance in the hot Tel Aviv night. As usual the audience sang along to the most popular songs.
Chandelier
"Not sure that the audience liked," Sia's art-music format said photographer Yuval Arel in his blog Elastic Head. "I liked (it)".
"Without musicians, while only 13 songs, is about a dress and wig and singing, as the center of the stage," wrote Arel. "dancers taking turns, led by Maddy(ie) Ziegler young talent, dancing and playing characters, a sort of combination of modern dance and theatrical performance, with songs of Sia standing on throughout the show."
Well more than standing, Sia is belting out some of the most emotion filled anthems in pop music.
Reaper
Bird Set Free

Breathe Me

The sites that promise to livestream Sia's concerts may be scams. They are being removed by YouTube as fast as they pop up.
To get Sia's music on your smart phone, go to iTunes Store, iTunes Music or Amazon.com.
For more about her career and life, check out Wikipedia. Sia's fan site is siamusic.net.
For more about Sia see – Cheap Thrills
Thanks to Sawser Natho for filming the songs on his Nexus 6P and posting them on YouTube. Thanks to Yuval Erel for the featured picture and blog post. His Facebook page and blog are full of excellent photographs of the concert.
By Stephen Pate, NJN Network