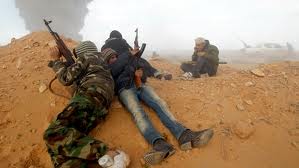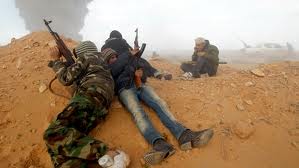 As pro-Gaddafi troops push back the rebels recovering ground lost to opposition forces over the past week, the Libyan regime must face new defections from its ranks.
Moussa Koussa, the Libyan foreign minister, has shown up in Britain in unusual circumstances. According to Reuters, the 61-year-old left his wife and some of his children behind in Tripoli when he crossed the border into Tunisia under the guise of seeking medical treatment. From there he contacted the British embassy and hired a private jet to fly him to London and was debriefed by British intelligence when he landed. British Foreign Secretary William Hague was quoted as saying, "Mr. Koussa's defection is the strongest sign yet that Col. Gadhafi's regime is vulnerable. His resignation shows that Gadhafi's regime, which has already seen significant defections to the opposition, is fragmented, under pressure and crumbling from within. Gadhafi must be asking himself who will be the next to abandon him."
Time reported that the following day, Ali Abdel-Salam al-Treki, a former foreign minister who had been named to represent Libya at the U.N., said he decided to resign that post.
Iman al-Obeidi
This woman made headlines around the world when on March 26, 2011; she burst into the restaurant of the Rixos Hotel in Tripoli, home to most of the international press corps, and told reporters of being held against her will by Gaddafi troops, beaten and gang-raped. Government security forces dragged her out of the hotel and she hasn't been seen by journalists since. Her fate is unknown. Wikipedia recounts the incident:
After entering the hotel and finding foreign journalists in the restaurant, al-Obeidi showed her injuries, which The New York Times described as "a broad bruise on her face, a large scar on her upper thigh, several narrow and deep scratch marks lower on her leg, and marks that seemed to come from binding around her hands and feet." Speaking in English, al-Obeidi said that she had been stopped at a checkpoint near Tripoli when she was in a car with her brother-in-law. When the security learned by her accent of her eastern Libyan background, she was ordered to produce her identity card, and detained her when they understood that she was from Tobruk and lived in Benghazi, both anti-Gaddafi forces' strongholds, and kept her in custody for two days. She went on to say that she had been tied up, urinated and defecated on, and raped by 15 men, with some of them videotaping the humiliation. She also pleaded for friends still held captive. Al-Obeidi said that local residents near her place of detention had helped her to escape.
Al-Obeidi's actions began what has been described variously as a wild scuffle, a brawl, and a melee, as government supporters tried to silence her. Government minders and security forces pushed aside intervening reporters, punched Jonathan Miller of Channel 4 for coming to the woman's defense, damaged a CNN camera, threatened the Sky News team with a gun, and wrestled and kicked Charles Clover of the The Financial Times in a struggle for his recording device. Waiters and other members of the hotel staff revealed themselves to be members of government security; they accused al-Obeidi of being a "traitor to Gaddafi", and two women grabbed table knives to threaten both her and the journalists, and one of them threw a blanket over al-Obeidi's head trying to muffle her. A Reuter's reporter was the only journalist who was able to speak with her; the rest of her statements were captured by cameras. Al-Obeidi was finally subdued, dragged out of the hotel and driven in an unmarked car to an unknown location. The incident provided reporters with a firsthand account of the methods of Muammar Gaddafi's government and further strained relationships between the international media and Libyan authorities over the government's tight control of the foreign reporters and their access to Libyan civilians for independent information.
What is going to happen to her? No one knows. Is she still alive? No one knows. Nevertheless, the Libyan regime knows full well the entire incident was video-taped by numerous journalists and the international community is well aware of this woman. Would they dare do something to her? No one knows.
Gaddafi regime seeks exit
The Sydney Morning Herald is asking as others have been whether or not Gaddafi and his regime are seeking a safe exit from this conundrum. There are reports supposedly confirmed by British government sources that Mohammed Ismail, a senior aide to Colonel Gaddafi's son Saif al-Islam, visited London in recent days. Mounting speculation is that Colonel Gaddafi's sons, foremost among them Saif al-Islam, al-Saadi and Muatassim, are anxious to explore a way out of the crisis in Libya.
VOA added to the rumours by writing opposition spokesman Mustafa Gheriani said Thursday that anti-government forces "believe the Gadhafi regime is beginning to crumble from within."
First rebel offensive, now counter-attack
Numerous reports over the past week have described rebels as moving back west. Supposedly some coalition bombings of pro-Gaddafi forces had added balance to the overwhelming superiority of loyalist troops. The situation is fluid, nevertheless, and the past two or three days have seen Gaddafi forces come back strong. As of this moment, loyalist forces supposedly have control of Ras Lanuf and are back attacking Misurata. (Wikipedia: Timeline of the 2011 Libyan civil war)
Russia Today – Mar 31/2011
'Mad Max' Reality: Video of Libya rebels firing rockets on desert frontline
Rebel fighters continued to battle forces loyal to the Libyan regime between the cities of Ajdabiya and Brega on Thursday. Rebels were seen launching rocket artillery from the back of vehicles at the frontline of the conflict between the two forces. Shortly after, rebel soldiers were seen driving away, apparently on the retreat after bombardment from forces loyal to Moammar Gadhafi.
Tantao News – Mar 31/2010
Libya Conflict Update: 3-31-2011
NATO takes over leadership for combat operations. U.S. and British governments have not ruled out arming the rebels. Libyian foreign minister defects.
Click HERE to read more from William Belle
Article viewed at: Oye! Times at www.oyetimes.com