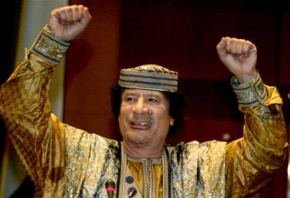 This article was last updated on April 16, 2022
Canada:

Oye! Times readers Get FREE $30 to spend on Amazon, Walmart…
USA:

Oye! Times readers Get FREE $30 to spend on Amazon, Walmart…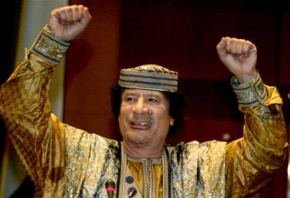 The BBC's diplomatic correspondent Joanthan Marcus writes: Nato's aim in the Libyan conflict is on the face of it crystal clear – to enforce UN Security Council resolutions calling for the protection of civilians in Libya. It is not, the US President Barack Obama, his French counterpart, Nicholas Sarkozy, and British Prime Minister David Cameron, tell us in a joint newspaper article, "to remove Gaddafi by force". But as time goes on – as the Libyan government's military shows no sign of collapsing or pulling back from besieged towns like Misrata, and the Libyan rebels show little ability to defeat their opponents – things become a little more complicated.
Gaddafi was seen defiantly parading around Tripoli on Thursday clearly showing that despite NATO, he's still a force to be reckoned with. His forces are pounding Misrata and at the moment, NATO attacks are doing little if nothing to stop this. Rebel forces are disorganized, poorly armed and no match for the loyalist troops. At best, the situation is a stalemate with little likelihood that this will change anytime soon.
Reuters is reporting that in a published article jointly written by the three leaders, British Prime Minister David Cameron, French President Nicolas Sarkozy and President Barack Obama said leaving Gaddafi in power would be an "unconscionable betrayal" of the Libyan people.
"It is unthinkable that someone who has tried to massacre his own people can play a part in their future government. So long as Gaddafi is in power, NATO and its coalition partners must maintain their operations so that civilians remain protected and the pressure on the regime builds. Then a genuine transition from dictatorship to an inclusive constitutional process can really begin, led by a new generation of leaders. For that transition to succeed, Colonel Gaddafi must go, and go for good."
Fine words, but that video of Gaddafi defiantly parading around Tripoli doesn't give anyone the impression that the leader has any intention of leaving any time soon.
Al Jazeera – Apr 15/2011
NATO air strikes hit Tripoli
NATO has launched three new air strikes in and around Libya's capital Tripoli, hitting a missile battery to the south and two other targets closer to the city centre. Libya's government claims at least three civilians were killed in the air attacks. On the diplomatic front, NATO foreign ministers are meeting for a second day in Berlin.
IT News – Apr 14/2011
Gaddafi parades through city in open-top car
Colonel Gaddafi is shown on state television touring the Libyan capital Tripoli as Nato airstrikes continue to hit the city.
http://www.youtube.com/watch?v=WX88pLHmPVc
Euronews – Apr 12/2011
NATO should do more in Libya, say Britain and France
Britain and France say NATO is not doing enough to protect civilians from attacks by Colonel Gaddafi's forces in Libya. The UK's Foreign Secretary William Hague called on the alliance to intensify its efforts. He said Britain had supplied more aircraft capable of striking ground targets, and called on other countries to do the same. Earlier, his French counterpart was more outspoken on France Info radio.
Click HERE to read more from William Belle
Article viewed at: Oye! Times at www.oyetimes.com
You can publish this article on your website as long as you provide a link back to this page.