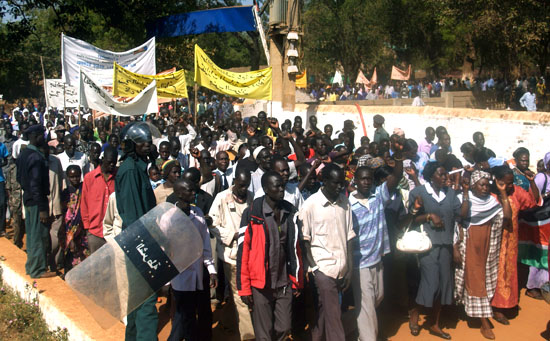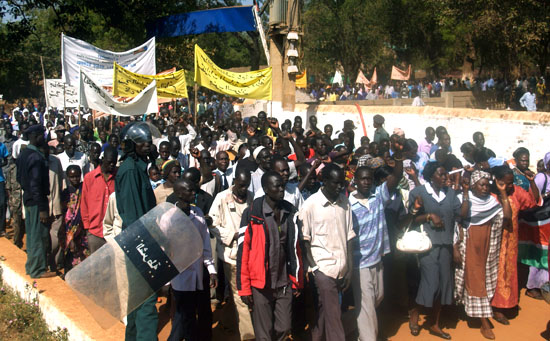 Thousands of citizens across Western Bahr el Ghazal State (WBGS) led a civil procession early this week in Wau calling on the Sudanese government to stop bombing their country's border regions.
The demonstrations ware a response to the last weekend's Sudan armed forces bombardment which took place in Raga County at Kafia Kenji and Hufra Nahas, a few miles North West of Raga town.
Since the independence of South Sudan, Khartoum government has been carrying out air strikes within South Sudan's territory as severally witnessed in Unity, Western and Northern Bahr el Ghazal States and other parts of the Country.

The demonstration also condemned the forcible recruitment of the South Sudanese students in the north in the name of the popular Defence Forces for invasion of Kafia Kenji and Huufrat Nahsa and the issue of the so called National Roll (Nationality) as a pressure on South Sudanese in Khartoum.
The procession was officially received at the ministerial premise by the State governor, Hon. Rizik Zackaria Hassan. Governor Zackaria called on Sudanese government to respect the rights of South Sudanese as determined during the South Sudan referendum.
"We are now different from the north, why are they assaulting us through air strikes and supporting militants to distable our infant nation?" Hassan asked the north.
"We will not enjoy our freedom in the new nation unless the Sudanese Armed Forces along South Sudan border are sent back to the north," Hassan said.
"If Bashir has failed to control his own affairs in the north which includes the Darfur, Eastern Sudan and Southern Kordofan problems, why is he disturbing the south?
"We peacefully urge the UN Security Council (UNSC), the International Criminal Court (ICC) to apprehend President Omar Hassan al Bashir over committing crimes against humanity," the Governor added.

Hassan assured the people of WBGS that they have recently formed the heavy armed forces to be deployed along South Sudan border with the north in Raga County.
The demonstrators also recommended the urgent protection of the South Sudan territory following the end of colonialism marking a new era after the recent independence of South Sudan on 9 July 2011.
They also condemned the recruitment and support of militia's mercenaries and the Janjawid groups to destabilize South Sudan.
"We are calling on the Sudanese government to stop inciting the students to riot in order to sabotage the sovereignty of South Sudan," The condemnation letter continued.
We urge the Khartoum government to immediately withdraw its troops along the north-south 1/1/1956 border currently inside Kafia Kenji according to the Comprehensive 2005 peace agreement (CPA) and the SPLA to be deployed along the border.