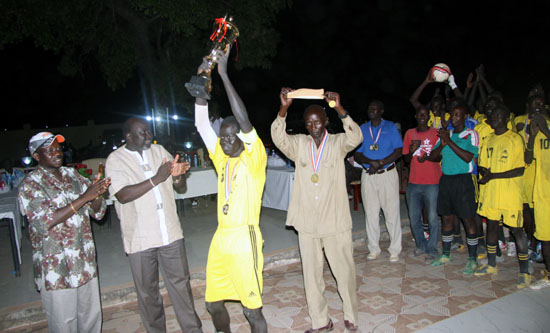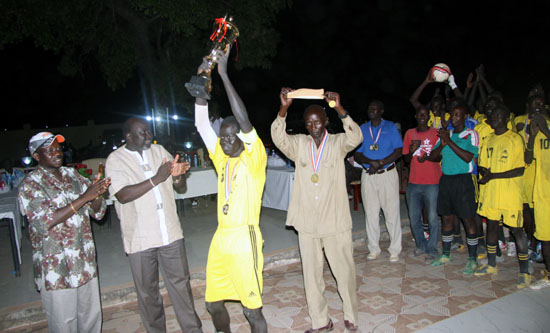 Thousands of fans turned out at the Rumbek freedom square to watch the Lakes State Governor football tournament competition finals last Wednesday. Gazal united emerged victorious defeating Akuac united one goal to nil.
The winner's party was organised at the Lakes State guest house for honouring all the 16 teams who were competing for the trophy.
The tournament began on the 16th November 2011 and ended on the 27th December 2011. There were 16 football teams with various sports including athletics, volleyball, basketball among others.
Gazal united football team won the trophy, Akuac United took second position and Young Stars took third position respectively in the tournament.
The match was attended by the National Minister of Culture, Youth and Sport Mr. Cirino Hiteng Ofuho and other top officials in the Ministry of Sports in the Republic of South Sudan.
While speaking at State house, the Lakes State Governor Hon. Chol Tong Mayay urged the youths of Lakes State to put their effort in building peace in their hearts. "I call upon youths to make peaceful reconciliation and to avoid cattle rustling – I need a peaceful State," he said.
Chol said that 2012 will be a year for development and reconciliation among the rival communities – "this year will be a year for our communities to expect water services at their remote Counties and Payams including remote Bomas," he emphasised.
"I need every cattle keeper to stop cattle rustling for development services to be delivered without fear of security – development cannot walk to your place when you are fighting a war without objective – I need peace to be a garden in your heart," he added.
The National Minister of Sports Mr. Cirino Hiteng Ofuho said that the government was planning to build a stadium for the people of Lakes State within 2012. "I'm very happy tonight; your game has shown a lot to Republic of South Sudan, your talent makes us proud. Lakes State is known to be strong in sporting activities such as volleyball, basketball and football because you are committed to sports and that your people are very tall," he said.
"Within the 2012 plan, the National Ministry will build a stadium for the Lakes State inhabitants; the stadium will have a capacity of 6,000 people. I urge every youth in this State to remain committed in advocating for peace. Rumbek was also a stronghold of SPLA/M during the 22 civil war between the Khartoum regime and the people of South Sudan," he added.
The Director General of the Ministry of Information, Culture, Youth and Sports in Lakes State, Madong William said that the Sporting activities were organized as a compliment of the State Government by supporting youth activities.
"This tournament was organized as part of the fulfilment of promises made by the Governor to promote youth activities, it is also intended to mark Christmas Day celebrations and to have them play this season because it's been long since such tournaments were organized in the State," William explained.
The Lakes State Minister of Information, Communication, Culture, Youth and Sports Marik Nanga Marik added that the purpose of tournament was to engage youths in sporting activities in order to foster peaceful coexistence among them.
Nanga appealed to Lakes State youths to stop indulging in alcohol, drugs and other issues that can destroy them at a tender age and to join such tournaments to shape their talents for the future.
This is the first time since 2005 that the Lakes State Government officials are organizing sporting activities. The first Lakes State Governor Mr. John Lat Zechariah in the period from 2005 to 2007 dint fulfil youth expectations due to insecurity that overwhelmed his time as well the second Governor of Mr. Daniel Awet Akot during the period from 2007 to 2010.