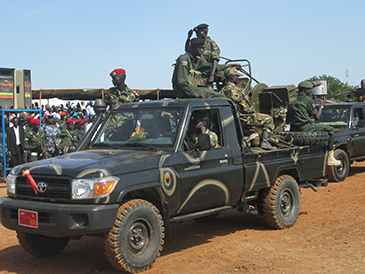 President Salva Kiir has renamed the Sudan People's Liberation Army to South Sudan Defense Force (SSDF) in a series of decrees issued on Monday that restructured the army.
JUBA, 17 May 2017 [Gurtong]-The President created three divisions of the new SSDF including Ground Force, Air Force, Air-Defense, and Navy units. All the three divisions will be led be a commander each.
Kiir also restructured the leadership of the SPLA general staff to hierarchically consist of the Commander in Chief, the Minister of Defense and Veteran Affairs, the Chief of Defense force, the Deputy Chief of Defense force and Inspector General.
The Community Empowerment for Progress Organization (CEPO), a Civil Society Organization has welcomed the move by President Kiir of restructuring the army.
"It is an impressive move by our President because we have called for the change of the name of our army from a liberation army in to a national army," Edmund Yakani Executive Director CEPO said.
However, Yakani said that that the next step the President should take is to engage in improving the discipline of the army.
"It is a priority now after changing the name and restructuring the army, the discipline of the army should be institutionalized," he said.
According to Yakani, the army should only deal with issues of defense of the country like foreign aggression, but not engage in policing, a job that is supposed to be done by the South Sudan police service.
"For example if there is any tension between the civilians and the government, the military should not intervene, but rather the police because they are the right forces to engage with the civilians," he said.
The activist said the presence of the military on the streets intimidate the people instead of providing a sense of security to the public.
He noted that the army should also stop launching military roadblocks to improve on its discipline.
Yakani said soldiers who defect from rebel factions should not directly be incorporated in to the army, but they should undergo orientation in to either the police, fire brigade, wild life or be disarmed and integrated in to civilian life.
The Agreement on the Resolution of Conflict in the Republic of South Sudan signed in August 2015 recommended for renaming the army. The changes are also based on the resolutions of the 5th SPLA Command Council conference held last year.