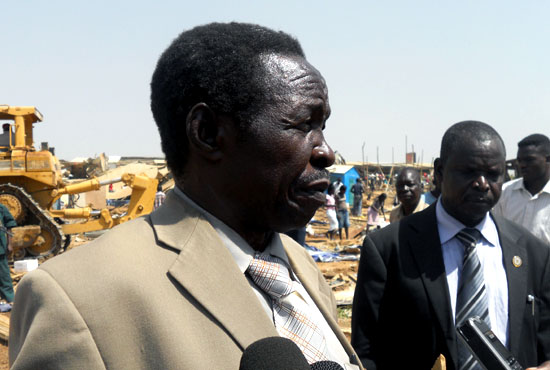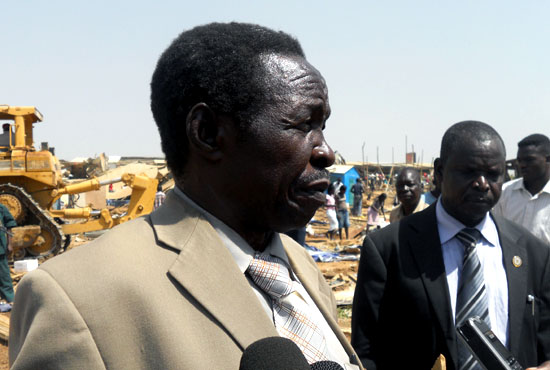 The Central Equatoria State Demolition Committee have began executing a plan to demolish 16 markets starting with Jebel Market with the aim of reconstructing them according to the Juba City Council designs.
While addressing the media during the demolition, the Chairperson of the Demolition Committee, Col. Vincent Kujo said that the State is determined to put its citizens in order to avoid future mistakes that other countries are suffering from now.
"Our target today is to demolish Jebel market squatter settlements. There is a lot of prostitution inside this place, we want to put up permanent structures for the markets in Juba and the town council has some plans for the construction," Col. Kujo said.
"We will compensate owners of houses near the market but for those who built on government land won't deserve any compensation. We are targeting any structure found within the areas we have set in order to allow the constructions to commence," he added.
According to the Chairman some citizens were unhappy with the committee's decision of demolishing the markets. He clarified that the demolition committee was not against anybody but they were interested in proper infrastructure similar to other cities like Nairobi, Kenya. Those who've got legal documents will not be affected by the demolition.
The Deputy Mayor of Juba City Council, Col. David Lokonga Moses said that there was little confrontation with some of the shopkeepers.
"There was a little resistance this morning; a group of people were going around telling others not to remove their properties and to start a demonstration against the planned demolition. Those who hid to their advise suffered because it was too late to secure their properties. They were later apprehended and will face the law," Col. Lokonga said.
"Part of Jebel Market is planned to be an industrial market. We want to remove all those, carpenters, welding garages from town and have an organized market. We shall bring an investor to develop it soon; so for those with bona fide documents, you have until 3 months to get the market plan from our office and start building as we have designed."
There are 16 markets which include Konyokonyo, Suk Sita, Atlabaaara, Juba n' Bari among others that shall be affected with the ongoing exercise.