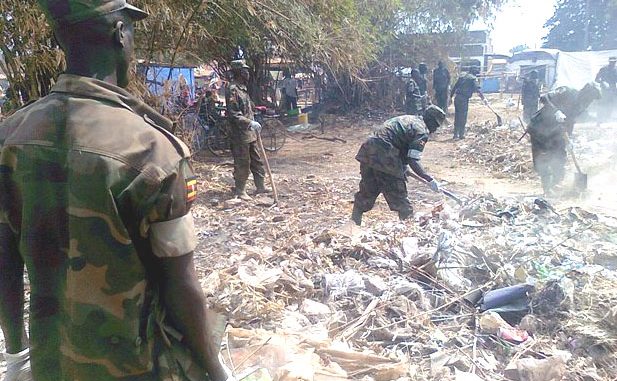 The Uganda People's Defence Force (UPDF), operating in South Sudan went round Yambio and Nzara Counties in Western Equatoria State (WES) on Saturday 4/2/2012, to carryout general cleaning in commemoration of the Army Week which is a national day in their country.
The cleaning exercise was presided over by high ranked Major Generals in UPDF. They first started cleaning the main market of Yambio by burning all the garbage.
Speaking to Gurtong, Major General Opera Patrick explained the day's significance. "The army week is just a name that was given by the current president of Uganda in memory of when he first went to the bush to fight the then authoritarian government."
The army week will climax in celebrations for Tarehe Sita, a day 28 years ago when the National Resistance Army that is now UPDF made the first attack on a government establishment (Kabamba military barracks) as part of the five year war that brought the current government to power.
He said as an army of Uganda, whether this day finds them in what part of the world it's celebrated together with the civilians because they were also involved in the attack. "We render this service to the community to value their support during the struggle," Patrick said.
The Major General explained that, during the first week of Feb,1981; was the first time that the current President of the Republic of Uganda H.E Yoweri Kaguta Museveni attacked the then 'terror' government, "it's a great day today for the Republic of Uganda, so we are here to show the people of Yambio that they are very important people. We want to help the vulnerable people within the community of Yambio as part of our appreciation for their struggle in the war."
General Opera Patrick also told Gurtong that the exercise was voluntary and even their work here in South Sudan has been facilitated mostly by the civil society. "We are working together with the local people to try and track the Lord's Resistance Army (LRA)."
He also appreciated all the communities in areas where the LRA have been operating for their great efforts in maintaining peace in WES. Patrick also commended the government efforts since the area is now calm.
The Lord's Resistance Army (also Lord's Resistance Movement or Lakwena Part Two) is a militant group with a syncretic Christian extreme religious ideology, known for the extreme atrocities they commit against civilians, including killings, mutilations, and in some accounts even cannibalism. The group operates in northern Uganda, South Sudan, the Democratic Republic of Congo and Central Africa. The group used to operate mainly in northern Uganda and also in parts of South Sudan, the Central African Republic, and the DRC.