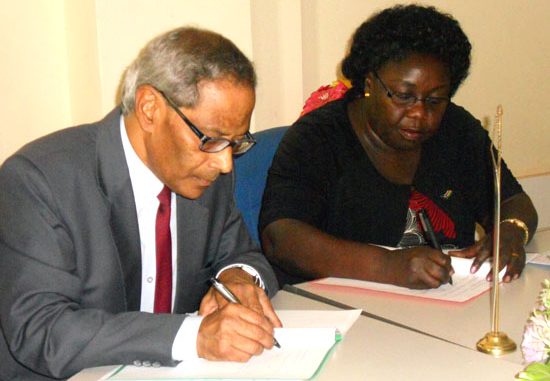 The Ministry of Telecommunication and Postal Services in Juba last Monday signed a Memorandum of Understanding (MoU) with the Government of India on the establishment of the Pan African E- Network Project in South Sudan.
Speaking after the signing ceremony, the Deputy Minister of Telecommunication and Postal Services, Beatrice Khamisa Wani said the MoU aims to open other avenues for cooperation.
"The MoU will open other avenues on telemedicine, e-education and rural access of latest technology in South Sudan. I know we have been referring patients from South Sudan to other hospitals in the Diaspora. Now doctors in Juba Teaching Hospital can consult online with doctors in India on various diseases to minimise referrals," Khamisa added.
"With this MoU, we want to make sure that the Republic of South Sudan isn't left behind technology-wise. We want to make sure that even schools benefit from e-education programs and also to improve government institutions through rural connectivity with the latest technology. This will mean taking the towns to the rural areas," she said.
According to Ms. Khamisa, "when the project is rolled out late this month, it will rejuvenate the work of the Ministry with regards to Information Communication Technologies (ICT). There will be capacity building for all our staff as well."
The Consul General of India, Mr. Parimal Kar added that this is the biggest project in the field of e-education and Telemedicine undertaken in South Sudan.
"This Project will bring the people of South Sudan and India together for better service delivery. India has set up a solar electrification systems in Gudele residential area to benefit South Sudan," Mr. Kar said.
By signing this MoU, South Sudan has joined 48 other African countries with similar ICT agreements with India.
PAN AFRICAN e-NETWORK PROJECT
The Pan –African e-Network project is being funded by the Government of India with an approved budgetary cost of INR 5429 Million i.e.over US$125 Million.The Ministry of External Affairs,Govt.of India has been designated as the Nodal Ministry.TCIL has been designated as the turnkey Implementing Agency.In this capacity,TCIL's role is to design the network,procure & install the equipment,provide consultancy to the Ministry of External affairs,Government of India on all matters related to the project.