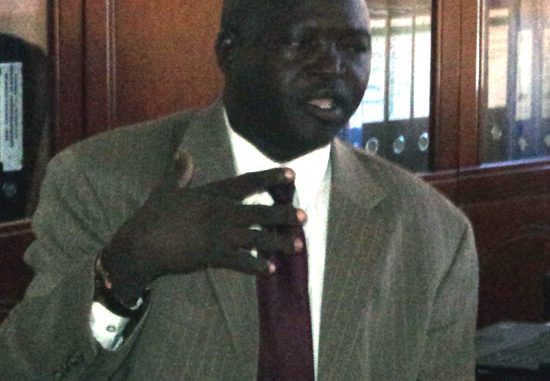 The Eastern Equatoria State's Health caretaker Minister, Sam Felix Makuja has announced an infiltration of measles outbreak in Kimotong Payam, Budi County of Eastern Equatoria State (EES).
Speaking to Gurtong this morning at the State Secretariat General after he was sworn in as caretaker health minister, Mr. Makuja confirmed that 9 out of the 19 measles-infected children have succumbed.
He disclosed that after his ministry received a report based on rumours about the disease a week and a half ago, he called an urgent meeting with the technical staff and without delays he sent a surveillance group to visit the area in Kimotong so as to substantiate reports on "strange deaths" but only to find out that it was measles outbreak.
The caretaker minister has revealed that a control mechanism has been set to impede any further spread of the disease. He said that the already infected kids are showing symptoms like; skin rashes, difficulty in breathing, high fever plus pneumonic temperament, have been isolated to one centre in the area.
Radio Emmanuel 89 fm has reported that similar outbreak has also been reported in some of the neighbouring Uganda's districts.
Health officials have revealed that if a measles' victim coughs, sneezes or utters, their infected droplets will spray into the air and a nearby person can easily inhale. Similarly if the droplets land on a surface, they remain active and because they are contagious for several hours, one can contract the virus by putting their fingers in the mouth or nose; or rubbing their eyes.
About Measles

According to the World Health Organization (WHO), Measles is a highly contagious, serious disease caused by a virus. In 1980, before widespread vaccination, measles caused an estimated
2.6 million deaths
each year. It remains one of the leading causes of death among young children globally, despite the availability of a safe and effective vaccine. An estimated
164, 000 people died
from measles in 2008 – mostly children under the age of 5.
Measles is caused by a virus in the paramyxovirus family. The measles virus normally grows in the cells that line the back of the throat and lungs. Measles is a human disease and is not known to occur in animals.