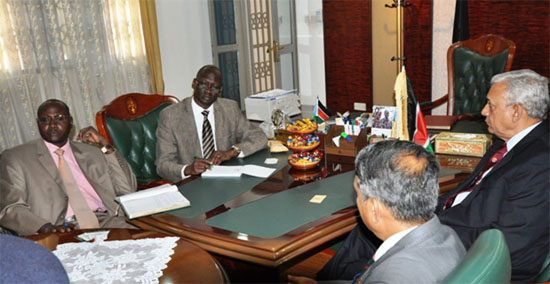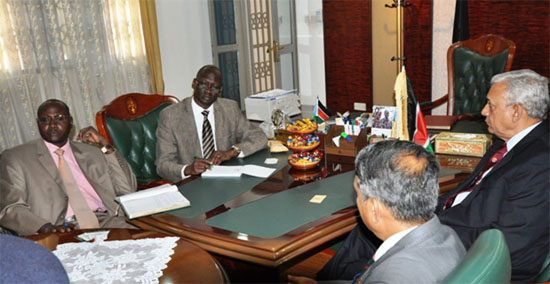 The Minister of Commerce, Industry and Investment, Garang Diing Akuang and the Bangladesh delegation last Monday discussed investment plans in South Sudan. The discussion took place at the Minister's office in Juba in presence of the press.
The Minister and the Bangladesh delegation tabled possibilities of Bangladesh investing in the South Sudan's Agricultural sector.
The head of the delegation who is the advisor to the Prime Minister on International Affairs, Dr. Syed Ali Gwoher Rizvi told Hon. Diing that Bangladesh and South Sudan have a common history and that his country faced the same if not similar challenges of nation building 40 years back. He added that his country is willing to invest in South Sudan and boost the relationship between the two countries.
"Our main purpose of being here is to see how we can cooperate and invest or do something for the benefit of South Sudanese," he said.
"We see the possibility of South Sudan becoming one of the leading agricultural producers and we are ready to help," he added.
He added that his country started from zero when they broke away from Pakistan in 1971 and that they want to be part of the nation building of South Sudan.
Meanwhile, Major General Akm Muzahid Uddin, one of the members of the delegation said his country is doing well in agriculture despite their small capacity of land adding that they feed over 170 million people and export some of the agricultural produce.
He also said that their experts could also come to the South to see what can be done to boost agriculture if the government accepts.
The United Nations Humanitarian Coordinator for South Sudan, Lise Grande recently told journalists that she is optimistic that there will be food insecurity in South Sudan given the shutting down of the oil and the tribal clashes.
So far South Sudan depends on food from neighbouring countries like Uganda and Kenya and the Minister of Commerce admitted that the country is facing food insecurity arguing that the farmers use poor methods of farming.
Hon. Diing hailed the interest of the Bangladesh to invest in South Sudan and their move to come. He further assured them of continued relations between the two countries.
"We are facing food gaps because our farmers use poor methods of farming. Agriculture is the area which we can benefit from your experience," the minister said.
The minister also urged the Bangladesh to help in building roads, textile industries, animals and fisheries.