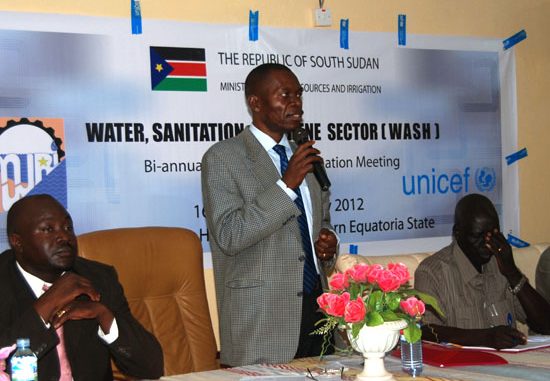 A three day workshop themed 'bi-annual planning and coordination on water, hygiene and sanitation' ended last Saturday in Yambio, Western Equatoria State (WES) at the South Sudan Hotel.
In his speech, the WES Governor Hon. Bangasi Joseph Bakosoro was grateful that such a vital workshop was being conducted when South Sudan is a sovereign State that is starting from scratch in strategizing on water resources.
Bakosoro encouraged the workshop participants to discuss on tangible, practical and manageable measures on water management; mostly touching on women and children since they are mostly exposed to diseases and other challenges when the basic human resource is scarce.
"Women and children are forced to walk long distances to fetch water, they also get ill if the water isn't treated well," he disclosed
He explained that the workshop should come up with solutions and inform communities on the government's efforts with support from partners in fixing these issues.
The governor congratulated the partners specially the UN and other NGOs for having stood firm with the people of South Sudan. "When you discuss about water, also discuss on proper ways of managing water the sources," Bakosoro said.
He lamented that people cannot be healthy without good food and clean drinking water.
The governor also challenged the donors specially the UN Agencies for relying on development reports without crosschecking their veracity. "I always challenge the donors for not monitoring and accounting on what they have donated," he said.
Bakosoro summed up his speech by asking the workshop organizers to embark on informing the people on how to eradicate poverty through capacity building and awareness on how to manage the water resources.
The South Sudan Chief of Water in UNICEF Mr. Ken Mascow praised the well attended workshop and urged the participants to freely discuss on measures to address water, hygiene and sanitation challenges in South Sudan.
The State Minister of Physical Infrastructure Mr. Batrus Magaya thanked the partners for organizing such an important workshop that is very crucial to both the government and the community.
Magaya revealed that most South Sudanese depend on boreholes, while others walk for long distance to fetch safe drinking water.
"70% of the population cant access clean drinking water and women suffer the most because traditionally women are expected to fetch water for the family," Magaya stressed.
He added that, "South Sudan has to learn lessons from the neighbouring countries in order to improve on provision of water services and become a model to the rest of Africa.
The workshop drew participants from all the 10 States of South Sudan. It was organized by UNICEF in collaboration with the National Ministry of Water and Irrigations.