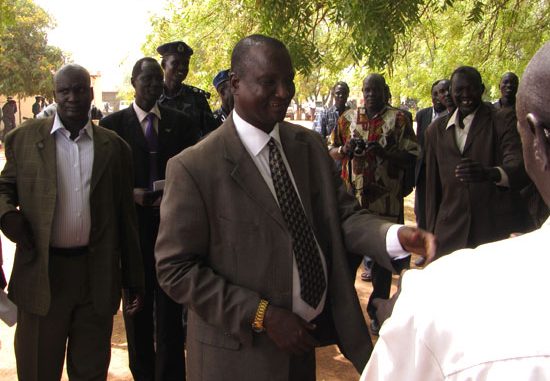 The Governor of Unity State Hon. Taban Deng Gai early last week relieved the State Advisors, Ministers and Commissioners and reappointed them as caretakers until the formation of a new State Government.
Speaking at the State parliament during the signing of the State Transitional Constitution for 2011 into law and the swearing in ceremony of the Governor, Deng stated that, " the Constitution which that has been signed today was thoroughly verified by the review team led by the State Minister of Legal Affairs Mr. Stephen Pei Bilieu."
Mr. Pei then presented the constitution to the Governor in the presence of all the members of the State Legislative Assembly, Advisors, Ministers Commissioners and distinguished guests moments before the Governor took oath of office and signed the State constitution into law.
The speaker of the State Legislative Assembly Mr. Simon Maguek Gai has welcomed the signing of the State Transitional Constitution into law.
Meanwhile, Governor Deng pointed out some of the critical issues that jeopardize the lives of innocent South Sudanese citizens such as clans and tribal conflicts or communal violence across the Country.
"Unity State has been engaged in several treaties and agreements with its neighbouring States including Southern Kordofan, Warrap and Lake State so that the ordinary citizens can enjoy the fruits of their long struggle and Unity State has always been quick in implementing these agreements," Mr. Pei said.
During the recent clash in Mayiendit County where 37 people died and many more injured, the incidence was blamed on both Warrap and Lakes State governments. Unity State expected the national government to put the tensions to an end after disagreeing with Warrap State authorities for allegedly referring the people of Unity State as militias.
Deng travelled to Juba to present a report to the national parliament after the three Governors of Unity, Warrap and Lakes were summoned following the incident in Mayiendit.