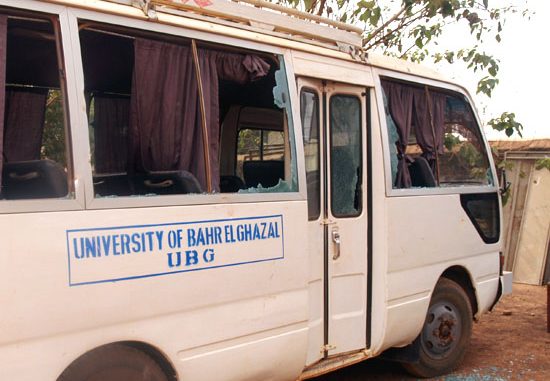 After the University of Bahr el Ghazal students' strike last Wednesday that left assets worth millions destroyed, the Western Bahr el Ghazal State Governor along with his cabinet ministers, political advisor and the police yesterday urged the students to calm as their issues were being addressed.
Speaking during the meeting, Governor Rizik Zackaria Hassan urged the University administration and the lecturers to be in touch with the students and to convince them of the current administration's plans to address their affairs.
"We are very concerned with the current situation at the University. Therefore, as the State government, I have come here today to advise the administration to address these problems amicably," Hassan said.
On Thursday last week, the University students of Arabic pattern attacked their English counterparts due to the abandoning of Arabic language for instruction that was earlier used at the University for lecturing.
Last Monday, one of the students in the College of Economics and Social Studies from the Arabic pattern, also a 2nd Lieutenant in the Sudan People's Liberation Army (SPLA) was caught with a pistol trying to shoot his fellow students of English pattern.
As the students went on rampage in the class, the University administration tried the best way to convince the rest from getting involved.
Following these incidences, the State government deployed a good number of police officers at the campus to control any further conflict escalation from the group.
The majority English pattern students at the University have condemned their seniors who are involved in the rampage and urged the Arabic pattern students to put aside their differences.

Yesterday afternoon, an organized group of first year students who mainly support the use of Arabic allegedly entered into administration compound and started throwing stones at the administration window panes and all the University's vehicles.

9 vehicles including 3 mini busses, office windows panes and other furniture were badly destroyed during the strike.
Following these destructions, the University administration has promised the Arabic pattern students to work on their demands as they acquire Arabic lecturers, the University principle Yithaya Ayuel Deng stated in the meeting with State Governor.

Deng urged the students to understand the current Country's situation since the shutting down of its oil pipelines leaving the economic situation worse. He asked them to stop destroying the University assets that are very expensive to replace.

"I call upon the law enforcers to track those students who are behind this destruction. As the University investigates this incidence, we also urged the parents to advise their children studying in Bahr el Ghazal University to concentrate on learning," he said.

The principle pointed out that despite the regular strikes at the University, the administration did not give up on lecturing.

He also told the meeting that University administration has identified 4 students as the culprits and will be apprehended by the police for investigations.