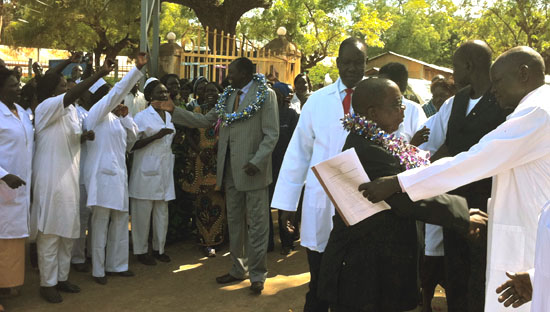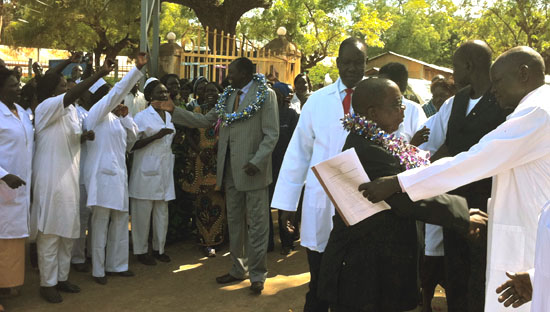 After striking for five days, the doctors at Juba Teaching Hospital have decided to temporarily resume their duties for two weeks as they wait for their demands to be met.
This came in a document of resolutions passed by the doctors yesterday. The Ministry of Health together with the hospital authorities and the doctors have been in a series of meetings to halt the strike. Gurtong followed the meetings which could go past 11pm in the night as negotiations continue.
Last Saturday the doctors decided to down their tools in protest of over two months' unpaid salaries and the cutting off of their water and electricity supply which left hundreds of lives hanging.
The absence of water supply sparked the strike coupled with other factors including the absence of emergency drugs and the failure to pay them for two months.
The chairman of the doctors group, Duk Stephen told journalists that they have decided to give the Ministry two weeks to respond to their demands or else they would hold another serious strike.
"For the sake of our citizens, we have decided to put the strike on hold and give the government two weeks and if they fail, then we can go for a more serious strike again," he said.
Over 50 doctors went on a go-slow for about five days in protest of the situation which they said was deteriorating.
They argued that their presence at work was very insignificant given the absence of emergency drugs in the hospital. According to them, they could no longer watch people dying in their presence yet they could help.
They revealed that the situation started before the country's independence in July last year and that they have been tolerating it but it kept deteriorating day by day.
The hospital has been running under the nurses and other consultants while the doctors were on strike.
They also said that they are ready to render services when the facilities are availed.