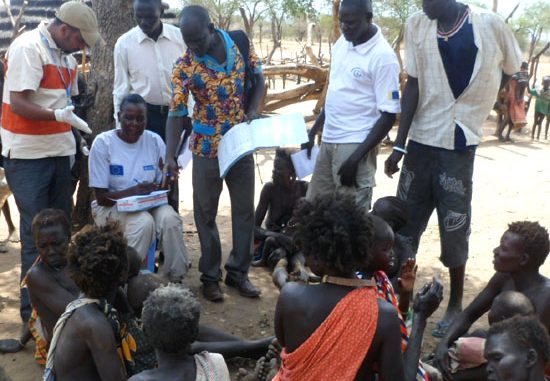 Other than covering the entire State, the team will focus more on the measles outbreak at Kimotong Payam of Budi County in Eastern Equatoria State.
While emphasizing the importance of vaccinating children under the age 5 for measles, a WHO's consultant, Mr. Melisachew Adane Ferede asked parents to bring their children for vaccination beginning from Monday 27th February 2012, the day he said will witness concurrent launchings of two key events; Measles follow up campaign and National Immunization Day (NID).

He said the two events are all important as children are benefiting by gaining strong immune system to fight any infections of either measles or polio.
The two events are co-funded by UNICEF and WHO, a WHO's National Public Health Officer, in Eastern Equatoria, Mr. Dominic Franco disclosed.
He informed Gurtong that 6 cases of measles from Kimotong Payam of Budi County confirmed positive after blood samples were tested in Juba.
He said that for the more than 25 measles infection cases reported to them from Yei, the most affected area of Kerenge Sub-Payam in Kimotong showed that;
a. 3 Children (0-6 months),
b. 2 Children (7 Months-1 year)
c. 13 Children (1-3years) and
d. 7 Children (3 – 6 years) were confirmed to have measles.

Speaking to Gurtong at his office, Mr. Ferede explained that measles campaign was conducted in 2007 but clarified that the upcoming measles campaign is a follow-up done after every 4 years.

He revealed the following strategies adopted for the upcoming campaign,
1. Fixed report – where vaccinators give vaccines at fixed Primary Health Care Centres (PHCCs) or hospitals,
2. Outreach – vaccinators travel to communities and allocated to use buildings like schools or institutions to give vaccines,
3. Mobile – vaccinators pursue pastoralists to remote areas like cattle camps in order to give vaccines to children.
The consultant disclosed that there were 999 vaccinators, 288 vaccination teams with each team constituting 3 persons (864 persons in total) plus 111 team supervisors and 3 recruits from each County.

Speaking in relation to the upcoming polio campaign, Mr. Franco said that with the help of WHO and UNICEF, the Government of South Sudan plans to make the country polio free.
The Eastern Equatoria State's Health caretaker Minister, Sam Felix Makuja announced the outbreak of measles in Kimotong Payam, early this month.
He confirmed that out of the 19 measles-infected children, 9 victims died but latest reports according to Franco have indicated an increase to more than 25 of similar cases.
The caretaker minister revealed to Gurtong that a control mechanism to impede any further spread of the disease has been in put in place. He said that the already infected children are showing symptoms like; skin rashes, difficulty in breathing, high fever plus pneumonic temperament and have been isolated to one centre in the area.
WHO reports that Measles is a highly contagious, serious disease caused by a virus. In 1980, before widespread vaccination, measles caused an estimated 2.6 million deaths each year. It remains one of the leading causes of death among young children globally, despite the availability of a safe and effective vaccine.
An estimated 164, 000 people died from measles in 2008 – mostly children under the age of 5.
Mr. Ferede clarified that while polio campaign shall take 4 days, measles follow up campaign shall take 7 days. He cautioned that handling measles is a very technical venture and is done by health practitioners unlike polio.