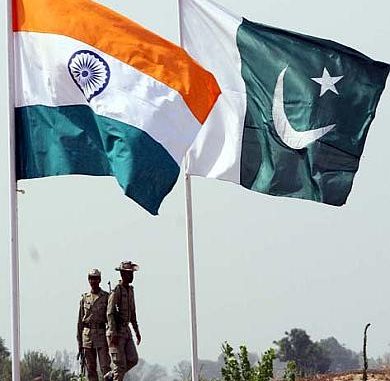 Pakistan agreed on Wednesday to regularize trading relations with India, a move that may help to give a boost to deteriorating talks aimed at humanizing relations between the hostile South Asian neighbors. Pakistan Information Minister, Firdous Ashiq Awan has told a news symposium that Pakistan's cabinet decided to grant India "Most Favored Nation" status, a decision that will likely boost bilateral trade.
"This was a decision taken in the national interest and all stakeholders, including our military and defense institutions, were on board," Ms. Awan said. Under World Trade Organization agreements, the MFN standard is supposed to ensure that WTO members do not distinguish against one another, allowing all countries in the organization to benefit equally from the lowest possible tariffs.
India granted Pakistan MFN status in the mid-1990s, but Pakistan declined to reciprocate despite its WTO obligations. Both countries are members of the WTO. Instead, Pakistan has inadequate imports from India to fewer than 2,000 items. Under the new arrangement, Pakistan will move to a "negative list" of goods—items of strategic importance such as defense equipment—which it will continue to ban, while allowing trade in a wider range of products.
The move is a rare goodwill gesture by Pakistan to India, with which it has fought three wars since 1947, and may help kick-start peace talks that have made little headway in recent years. The two countries have been hesitant to improve relations through the talks, launched in 2004 but suspended after Pakistani militants attacked Mumbai in 2008, killing more than 160 people.
The discussions started again in earnest in February after India decided to Pakistan's demands to thicken discussions to focus on issues such as trade and the disputed Himalayan region of Kashmir. India earlier had said that it was unwilling to discuss these issues until Pakistan cracked down on militants that threaten India.
Both sides have been focusing on regular meetings of trade bureaucrats as a way to edge the talks forward, rather than hopeful for a major breakthrough on more rigid problems like Kashmir, which is divided between India and Pakistan and claimed by both in its entirety.
Chandrajit Banerjee, director general of the Confederation of Indian Industry, a trade group, said in a statement that Pakistan's decision to grant MFN status to India will help give a big jump to two-pronged trade and pave the way for economic amalgamation of South Asia. Bilateral trade could jump to $8 billion in five years, he said.
But both sides still need to address other issues like the difficulty of obtaining business visas, non-tariff barriers to trade and the need to relax investment, Mr. Banerjee added. Some Pakistani politicians had argued that MFN status for India should be linked to the resolution of the Kashmir issue, and the decision to move ahead anyway was a rare bright spot in relations.
Still, Pakistan's failure to push ahead with the trials of seven Pakistani militants that it has charged in connection with the Mumbai attacks remains a major block in the way to the overall normalization of relations between the two nations.
It is unclear whether Wednesday's move will immediately propel trade higher, largely because non-tariff barriers to trade, such as burdensome labeling requirements, could still make things difficult for exporters. A highly militarized border between the two nations—with only one major overland trade post—is also likely to continue to limit commerce despite moves to expand the capacity of customs facilities at that post.
There is huge room for growth in trade. In the year ended March 31, 2010, the most recent data available, India exported $1.57 billion of goods to Pakistan. In the same period, Pakistan sold goods valued at $276 million in India, according to Indian government figures. By comparison, two-way trade between India and China, New Delhi's largest trading partner, is valued at more than $60 billion annually.
Article viewed on Oye! Times at www.oyetmes.com