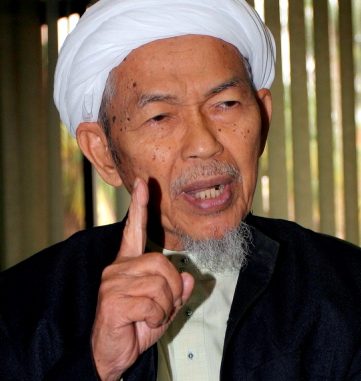 Leader of PAS, Datuk Nik Abdul Aziz Nik has declared that his party will never acknowledge the existence of the forbidden state of Israel.
Abdul Aziz Nik gave his statement after meeting with the opposition leader Datuk Seri Anwar Ibrahim who has been accused of taking sides of the Israeli government in one of his statements in the previous week.
The two leaders met for almost an hour early this morning to clarify the misunderstanding that the Wall Street Journal has initiated in respect of the interview Mr. Ibrahim gave to them. Abdul Aziz Nik refused to speak to the media right after meeting. However, he did release an official statement later on accusing the government of allowing Israeli ships at Port Klang.
Later in the day, Abdul Aziz Nik expressed his feelings about the controversial situation of Israel and said that it was only fair to not acknowledge them since they have been denying the rights of Muslims since ever and do not acknowledge Palestine and the people of Palestine. He laid stress on the fact that it is impossible to be on neutral terms with a force which has been brutally murdering and torturing children, women, and families in Palestine.
Datuk Abdul Aziz expressed his thoughts via the party's website other than talking to the media.
He said, "We leave it to Datuk Seri Anwar Ibrahim to accept this stand of PAS".
Article viewed on Oye! Times at www.oyetimes.com