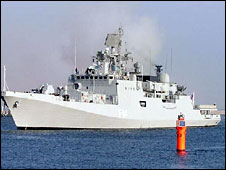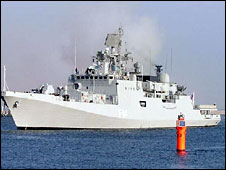 The Indian navy has been given formal approval by the United Nations to go after pirate ships in Somali waters, the BBC has reported.
The UN approval authorises India to go in "hot pursuit" of pirates, naval sources reported the BBC.
On Tuesday, an Indian warship sank a suspected Somali pirate vessel after it opened fire on it in the Gulf of Aden.
Piracy incidents have surged off the Somali coast. A number of Indian crews have been on ships hijacked by pirates.
Earlier this week, a Saudi Arabian supertanker, the Sirius Star, was hijacked along with 25 crew.
The tanker, loaded with oil worth $100m, is now anchored off the Somali coast.
'Only to check piracy'
"The UN approval which allows Indian warships to enter Somali waters has been conveyed to us recently," a naval source reported the BBC.
"We can now enter the Somali territorial waters under certain circumstances. It would be only to check piracy," he said.
India has called for greater co-operation between foreign navies to tackle the piracy threat.
Sources said India would be working along with the navies of the countries in the Indian Ocean region.
According to some reports, the Indian navy is also planning to send at least one more warship to the Gulf of Aden.
Local media reports said that INS Mysore – a destroyer – would be deployed as early as next week.
The Navy refused to confirm the report, saying it did not discuss deployment of ships.
But naval sources said it was yet to be decided whether a new warship would replace the INS Tabar – which sank the pirate "mother ship" this week – or boost its operations.
India deployed INS Tabar in the Gulf of Aden on 23 October, and it has escorted 35 ships safely through the "pirate-infested waters", the navy says.
Meanwhile, the Directorate General of Shipping in India has confirmed that seven Indians are among the crew of the MV Delight, a Hong-Kong registered Iranian cargo ship, which was hijacked on Tuesday.
The 25-member crew includes two Pakistanis, seven Filipinos, seven Iranians and two Ghanians.
The ship was carrying wheat and was bound for Iran.
A week ago, 18 Indian crew members of the Japanese-owned cargo ship MV Stolt Valor were released after being held by pirates for two months.
Somalia has not had a functioning national government since 1991 and has suffered continuing civil strife.
India is among several countries patrolling the Gulf of Aden, one of the world's busiest shipping lanes which connects the Red Sea and the Indian Ocean.
In recent weeks, there has been a growing demand for multinational efforts to fight the pirates.
More than 90 vessels have been attacked by pirates this year.
Piracy off the coast of East Africa and the Gulf of Aden – an area of more than 1m sq miles (2.6m sq km) – is estimated to have cost up to $30m in ransoms this year, a UK think-tank has said.