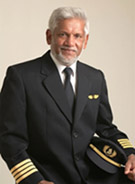 Hang on friend, don't mock me yet, wait till I finish. Yes I know the Great Wall is in China, but then, there are those who believe otherwise and this is a fairy tale where the Gods came down from Mount Olympus and acted the script in front of my eyes. The story is gospel truth, pulled out of my memory bag, many others to come too, about how I flew VIP's in aeroplanes. It is funny when I look back now, but it certainly wasn't funny when all this was happening.
The VVIPs were in Kathmandu and I was to fly and pick the party and drop them in New Delhi, then head back to Colombo. It was "meeting and talking" time to simmer the ethnic conflict where leaders flew in aeroplanes to meet other leaders to discuss means of bringing peace. Sometimes it was not the leaders but trusted messengers who carried olive branches and drank coffee sitting on fatly cushioned seats with aids bending to give and take papers whilst a young Sinhala soldier stalked his young Tamil counterpart in the wastelands of the north, both hell bent on killing each other and sadly, not even knowing why. No coffee, no talk, just aim and shoot.
Let me get back to my story before I get carried away. Yes, the big aeroplane was ready and so were we to head to Nepal. But there was a problem. The Himalayan fog had settled in and blanketed the airport and one look at the meteorological report told me there was no way I could land in Kathmandu. The visibility was almost zero till such time the sun could come out and thaw the fog and that would be at least two hours after our estimated time of arrival. No problem, "we delay the flight and go three hours later just to make sure." These kinds of situations happen so often in commercial aviation and Kathmandu was no place to play Russian roulette; not with all those mountains shrouded in cloud waiting for a pilot's mistake.

"No, no, no," comes the order from heaven. The Drum Major who was running things for the board room was on board to make sure everything went silky smooth. He had been entrusted to lay the Arabian Night "Magic Carpet" for the VVIP travel and go on the flight itself to be around for anything and everything including getting some VVIP butter on his bread. "We must go on time Captain." "But Sir, I cannot land, it is all fogged up." "No no no, we will go on time and we will wait there hovering over Kathmandu so the Big Boss knows we have come."
It wasn't a request, a subtle order and my job was to fly safe, as long as I had fuel I could sing Ba ba Black Sheep and hover till the cows came home over Kathmandu as long as I had enough gas in tanks to high-tail it to Calcutta, that's if the fog never lifted.
Off we went, tanks full, flying in a clear blue sky to Nepal. The met man was right, it was all fogged up below 4000 feet, white and mushy, like bombai-mutai and above that we entered a holding pattern to stay flying till the fog lifted. Well, the people we came to pick up knew we had come. Never mind how much fuel we burnt, they knew we had come, that was important, at least to some.

Round and round we flew on what is called a race track pattern in a crisp clear sky, auto-pilot doing yeoman service. The majestic Himalayan range stood out in picture postcard perfection with peaks jutting out to the heavens whilst the trade-winds aloft were sheep dogging flocks of fluffy clouds against a brilliant blue sky.

We ate snack meals, full meals, salads and sweets as food was plenty on these VVIP flights. Even the catering men needed to pick a "well-done or two" and they loaded anything and everything that they imagined the VIP's would fancy. "Raja Bojun Captain, Raja Bojun" I will never forget that description the catering boss gave me before we took off from Katunayake.
Yes, whilst we were waiting for the fog to lift I remember drinking chilled "Dimbul Kiri" and perhaps entering the Guinness Book as the only Airline Captain who was served creamy wood-apple juice in his cockpit.

"That crack out there can you see?" this was the flight engineer talking to the stewardess pointing to the mountain range, "that is the Great Wall of China." It sure looked like some broken wall, a split on the hillside. She looked hard as if to eat the wall and then ran out, all excited, maybe to tell the others about the Great Wall she saw.
An hour passed, maybe a bit more, the fog lifted and we made preparations and brought the aeroplane in and landed safely. First part of the drama over, now it was only to get the passengers on board and head for Delhi.
I saw them trickling in, the VIP group, strutting, shuffling feet and waving at new found Nepalese friends, warm handshakes and warmer hugs and it was good-bye to another holiday. Everyone was seated and cool drinks were going around while we waited for the VVIP to arrive to start the engines.
In comes to the cockpit, the Drum Major, "Captain, when you take off, which side would our VIP passengers see the Great Wall better, left or right?" Man, wasn't that a googly? Thank God the doosra wasn't invented. "What Great Wall Sir?" For a moment I thought he was joking. He wasn't. "The Great Wall of China Captain, whilst you were in the holding pattern the stewardess showed me."
"Sir, this is Nepal, there is no Great Wall here," I mumbled.
"What do you mean? I already told the VIP's you can see the Great Wall after takeoff," he certainly was bowled. "What am I to tell them now?" He did look annoyed.
Man, I certainly did not have an answer for him unless I filled the tanks again and made a beeline to Beijing and back. Great Wall of China in Kathmandu, then I must have been Captain Kublai Khan.
Dear reader, I rest my case. What I wrote is the absolute truth.
We reached Delhi safely and the VVIPs disembarked. Some stayed on, to return to Colombo and we flew back. Of course there were Swiss chocolates to eat and chilled Dimbul Kiri to drink, even the leftovers of Raja Bojun was way beyond our normal aeroplane food.
Flying the VVIPs was never a problem, they were always gracious, it was the second string that bent to please the bosses who gave the headaches and saw Great Walls in Kathmandu. Then there was the third string and the fourth string and a fifth too, all making their best attempts to play some part in the pageant and lead the hurrahs which I thought was the sole reason they were present.
The Kathmandu crew are scattered today, one is an instructor with SIA and another a senior Captain in Jet Airways and the third after a stint in Japan Airlines is domiciled in Canada. Yes, if needed, I have witnesses to put on the stand; they would never forget the Great Wall fairy tale.
I wonder whether the years that rolled have changed anything. I doubt. It is like watching Charles Loughton as Quasimodo in Hunchback of Notre Dame filmed in black and white and now switching to the Anthony Quinn version. Same script, only the actors have changed, and no more black and white, now it's filmed in technicolour, wide screen and Todd AO and we the audience as always, clap and cheer.

Great Walls and Chilled Dimbul Kiri, at least I have stories to tell.
About the author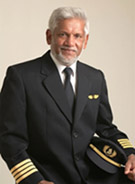 Capt Elmo Jayawardena is the Founder/President of CandleAid Lanka. CandleAid Lanka (formerly AFLAC International). We are a link between one person's generosity and another person's humanitarian need. CandAid helps people who suffer from the multiple burdens of poverty. My job is to make the world hear their cries – HELP ME Website:
www.candleaid.org