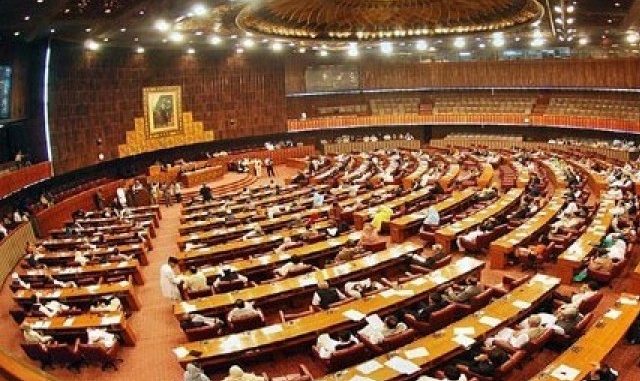 The Opposition expressed frustration over the Federal Budget tabled by PML-N government for discussion in the Parliament. Members of National Assembly criticized the ruling-party for presenting an anti-people budget with absolutely zero innovation or flexibility to provide relief to a common man.

MNAs of JUI-F – former government ally – said the government has proposed a capitalist budget with a few positive steps that might lead to national economic development. Although the attendance remained meek, the MNAs sitting on Opposition benches actively expressed grave concern over the proposed budget.

As the budget debate matured, the Parliament witnessed a feud between Federal Planning Minister Ahsan Iqbal and members of previous ruling party Pakistan Peoples Party Parliamentarians (PPPP). Deviating from the matter at hand, Ahsan Iqbal called PPP-P a regional party fighting only for the development of Sindh and looking past national interests. Answering the concerns rose by Ayaz Soomro of PPP-P regarding shortage of water in Sindh, PML-N minister accused the former for disregarding national interests.

"We should not use such references which are not in the national interest. PPP-P is a federal party. But it is behaving like a regional party," remarked Ahsan.

Later, Speaker Ayaz Sadiq allowed Nawab Yousuf Talpur of PPP-P to speak on the matter. The two ministers who got into a heated debate remained calm as Talpur demanded that the 1991 Water Accord should be implemented in letter and spirit.

"We want that the Water Accord is implemented in letter and spirit but Sindh is not getting its due share," Talpur said.