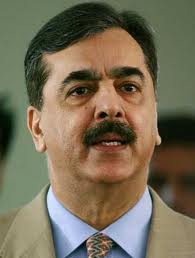 This article was last updated on April 16, 2022

Shortly after Prime Minister Nawaz Sharif announced that his government would encourage the judiciary to try former Army Chief Pervez Musharraf for treason charges, ex-PM and senior PPP leader Yousaf Raza Gilani suggested that the judges who coincided with Musharraf in 1999 should also be tried.
Gilani was referring to the judges who stood beside Musharraf in May 2000 and validated the October 1999 coup, granting him executive and legislative authority for three years. CJ Iftikhar Chaudhry was also among the judges who played a vital role in helping Musharraf extend his rule on constitutional grounds.
"Those who had validated the coup of General Musharraf should also be tried for violating Article 6 of the Constitution," Gilani said on Tuesday.
Gilani has a grim history with the Supreme Court which disqualified him as premier after he defied court's orders to reopen graft cases against President Asif Ali Zardari.
"The PML-N today has announced it will proceed against Musharraf under Article 6 of the Constitution for imposing emergency in November 2007. Why should he not be tried for his coup in 1999 along with those who had endorsed it?" inquired Mr Gilani.
"The Constitution does not allow any degree of transgression, whatsoever, in the domain of one institution by other institution or institutions. The authors of the Constitution were aware of the ramifications, therefore they underscored the importance of the observance of the trichotomy of power in absolute terms," he added.
You can publish this article on your website as long as you provide a link back to this page.