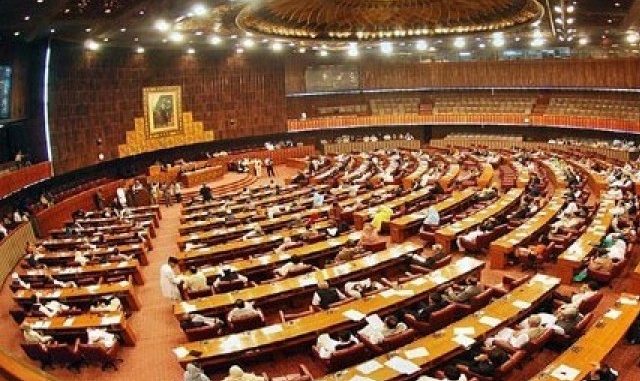 National Assembly passed the Finance Bill 2013 despite harsh criticism from the Opposition on Thursday while the Supreme Court is already hearing a suo moto notice against the alleged illegal increase in General Sales Tax (GST) rate.

As a result of Finance Bill 2013, an increased GST rate of 17 per cent would be applicable from June 13 and an additional 9 per cent tax and 26 per cent GST will be imposed on CNG. The Bill also allows the Auditor General Pakistan (AGP) to exempt expenditure of secret service agencies.

On the other hand, members of Pakistan People's Party Parliamentarians (PPPP), Pakistan Tehreek-e-Insaf (PTI), Muttahida Qaumi Movement (MQM), Jamat-e-Islamai (JI) and Awami Muslim League (AML) carped at the proposed budget and tagged it as IMF budget – the allegations completely denied by Finance Minister Ishaq Dar.

"IMF has termed PKR 207 billion new taxes insufficient for meeting PKR 2.475 trillion target set for next fiscal year, as the Fund wanted us to take PKR 475 billion fresh taxation measures in the budget, but we refused it," Finance Minister Ishaq Dar claimed.

The Bill also states that up to 12 per cent advance tax would be collected on the imported foreign film for the purpose of screening and viewing in Pakistan. Pakistan Media Regulatory Authority will be responsible of collecting 20 per cent tax as per permission fee or renewal fee from IP-TV, FM Radio, MMDS, Mobile TV, Mobile Audio, Satellite TV Channel, and Landing rights.