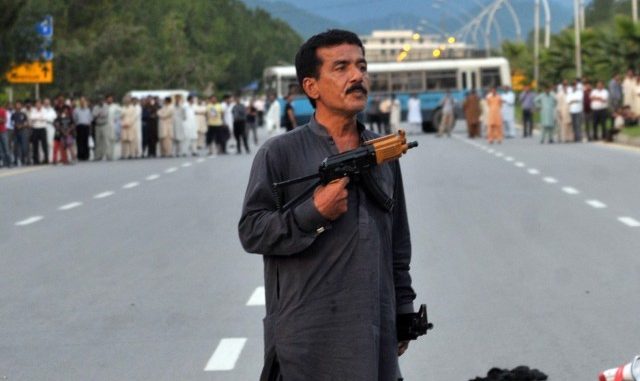 An eccentric episode in Islamabad reached its climax when a highly dangerous gunman was tackled by a local politician on Thursday. A mentally instable citizen accompanied with his wife and two young children created an unusual scene in Islamabad.

The episode started when the armed man was directed to take another route to the parliament. The apparently exhausted local displayed his arms, shot a few bullets in the air and parked his car near Blue Area. Islamabad security immediately surrounded the vehicle and asked the man to release his wife and children.

According to preliminary media reports, the criminal is identified as Mohammad Sikandar. Pakistani media dramatically covered the entire incident. Sikandar seemed extremely agitated by the presence of media personnel and bystanders. His confused list of demands pivoted around the request for a safe exit.

Senior police officials continued their undying efforts to convince Sikandar to surrender. The standoff continued from 5:30 pm to 11:00 pm. Eventually a local politician, Mr Zamurd Khan, assumed the role of a negotiator and tried to disarm Sikandar. Although Sikandar managed to break free, Khan rescued the assumed hostages while security forces successfully entangled Sikandar.

"I was sitting at home and watching this whole drama on TV. I came out with a commitment that I will catch this guy, even if it takes my life," Khan told the media.