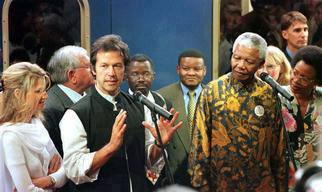 This article was last updated on April 16, 2022

Pakistan Tehreek-e-Insaaf (PTI) is prepared to put forward its 4-point agenda in front of other political parties during the All Parties Conference (APC). PTI maintains that Khyber Pakhtunkhwa is the most effected province by war on terrorism; hence, viable measures should be taken to develop the Northern areas of Pakistan.
"Khyber-Pakhtunkhwa is the province most affected by terrorism. I want to know what the government policy on drone strikes was, and for that I had requested a closed door meeting with the interior minister, the chief of army staff and the prime minister before the APC, but I have received no response from any quarters," Khan said.
Khan disclosed the four points while addressing worker-class at the Insaf Labor Convention on Sunday. He said, Pakistan must get out of the US war on terrorism, start dialogue process to end terrorism, adopt policy of reconciliation in tribal areas on the pattern of Nelson Mandela's policy and conduct a military operation against those who do not want to do negotiations.
Khan reiterated that Pakistan should never have been involved in the so-called US's war on terrorism. He said his party will try to convince other political parties that Pakistan has already paid a high price of fighting on behalf of the US and it is time that we handle these problems in our own way. He favored the continuation of a dialogue process to establish peace and harmony in the country.
Referring to the historic reconciliation steps taken by the Nobel Prize winner Nelson Mandela, Khan suggested that Pakistan should also initiate a similar Truth and Reconciliation process. However, the PTI chief alleged that in case all the peacemaking efforts seem to have failed, a military operation should be launched to counter terrorism.
You can publish this article on your website as long as you provide a link back to this page.