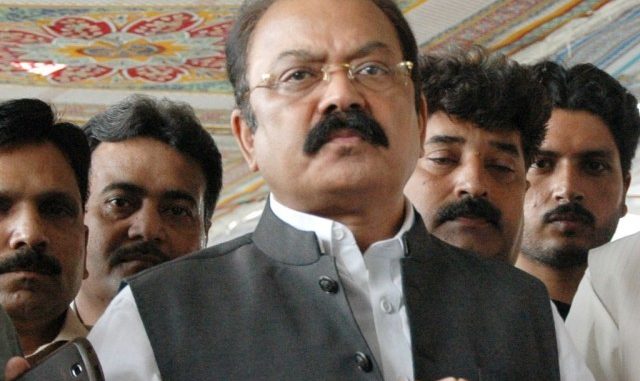 The Law Minister, Rana Sanaullah has resigned from his post and has sent his resignation letter to the Chief Minister of Punjab, Shahbaz Sharif. The Chief Minister revealed in a press conference this Friday evening that he had asked the Law Minister to resign due to the Model Town Lahore incident where Dr. Tahirul Qadri's residence and the Trust Minhaj-ul-Quran were attacked by the Punjab police. The attack included beating and direct gunshots by the policemen at every man they could find in that area. More than eighty people were injured and eight were declared dead on the spot. Two women were part of the deceased.
Samaa News reported that the resignation of Rana Sanaullah has not been accepted by Dr. Tahirul Qadri, stating it as far too inadequate as the first person to resign should have been the Chief Minister himself. "Giving marching ordering to just Sanaullah, who is a mere pawn in the hands of all-powerful Sharif brothers, is absolutely not enough, at all", Dr Qadri said. He added that Sanaullah had not been sacked but rather sent on a honeymoon to chill out. "He will be back in the game as soon as his vacation ends", Dr Qadri said. He said that Shahbaz today had admitted before the whole nation that innocent blood was shed in Lahore.
"On moral grounds, the whole chain of command from chief executive, who issued the orders, to the cops, who executed them, should step down over an incident as grave as Model Town tragedy", Qadri demanded of CM Punjab, "Shahbaz Sharif better stop being so theatrical and simply resign as it was he who called the shots and not Sanaullah".