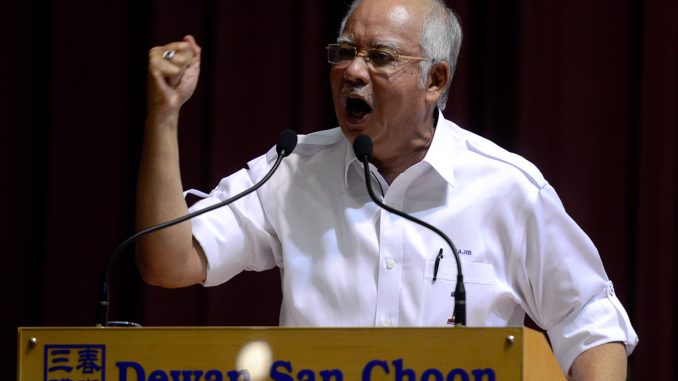 While addressing MCA's 61st annual general assembly this Sunday, the Prime Minister of Malaysia, Datuk Seri Najib Razak said that the Chinese did not have to worry about future of vernacular schools as their rights were enshrined in the Federal Constitution and thus should ignore calls by his party men who declare the abolishment of these schools.

"Don't worry about SJKC. The right to learn your mother tongue is already in the constitution and the country's laws," said the Prime Minister, "In return, we hope that the (students) of SJKC learn the national language. Can you do that? Don't use the words 'gua' (Hokkien for 'I') and 'lu' (Hokkien for 'you') any longer." The Prime Minister also mentioned U.S. President Barack Obama's speech. "In U.S. President Barrack Obama's speech at the United Nations recently, he recognised Malaysia as a country that is fast developing towards becoming an advanced economy. That is why we cannot take for granted the things we have achieved so far. We must appreciate the sacrifices of past leaders," he said.

The Prime Minister also added that he supports the MCA's plan to implement the Medan Inovasi 1Malaysia. "I support MCA's plan to implement the Medan Inovasi 1Malaysia. We can sit down and work out the details how to go about it. I am asking Koperasi Jayadiri Malaysia (KOJADI) to distribute RM50 million to small and medium enterprises (SMEs). When the government approves an allocation, the execution is always the problem. If KOJADI can execute this plan, they can help collect the debts. KOJADI will be the agent for the government to help SMEs," said Najib.