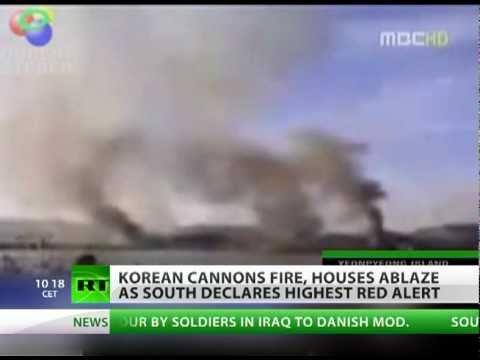 This article was last updated on April 16, 2022
Canada:

Oye! Times readers Get FREE $30 to spend on Amazon, Walmart…
USA:

Oye! Times readers Get FREE $30 to spend on Amazon, Walmart…
On Tuesday, November 23, 2010, North Korea bombarded the small island of Yeonpyeong, which houses South Korean military installations and a small civilian population. Apparently over 100 shells struck the area killing at least two South Korean marines, setting dozens of buildings ablaze and sending civilians fleeing for shelter.
According to South Korean officials, Pyongyang had warned the South to halt military drills in the area. Seoul refused and continued with its exercises which included firing artillery into disputed waters although away from the North Korean shore. The North then retaliated by bombarding the island. In response to the bombardment, the South fired back 80 rounds.
Technically, the two Koreas are still at war. An armistice was signed in 1953 which halted the fighting but a peace treaty was never signed. Nearly 2 million troops, including over 28,000 from the U.S., are positioned on both sides the world's most heavily militarized border. It is of note that the maritime border mandated by the United Nations after the original Korean conflict is not recognised by North Korea.
In March, a South Korean warship went down in the waters while on a routine patrolling mission. Forty-six sailors were killed in what South Korea calls the worst military attack on the country since the war. Seoul blamed a North Korean torpedo, but Pyongyang denied responsibility.
Analysts are speculating on the reasoning behind the attack. North Korea is going through a regime change and this show of muscle could be a way of demonstrating to the North's own military that Kim Jong-Il's son is able to take charge. However it recently came to light that the North may once again be attempting to enrich uranium and this provocation could be another way of wresting diplomatic and economic concessions from the international community.
Two weeks ago, the North allowed a prominent American nuclear scientist to see a brand-new facility for the production of highly enriched uranium. While the scientist was told the facility was intended to enrich uranium only to produce electricity, the news obviously sparked concerns over Pyongyang's intentions to develop nuclear weapons with highly enriched uranium. U.S. intelligence says the regime already has around 10 nuclear bombs.
The United States has said it will not talk one on one with North Korea but it has also said it will not return to the six-party talks before North Korea makes some positive signs of stepping down from its nuclear ambitions. The six parties are: North Korea, South Korea, China, the U.S., Russia and Japan. China, on the other hand feels the talks should resume without any pre-conditions.
Whatever the cause of this latest confrontation, there can be no doubt that dealing with North Korea is mysterious. The regime is unpredictable and it's anybody's guess if they are as sly as a fox or as nutty as a fruitcake.
Click
HERE
to read more from William Belle
References
Wikipedia: Shelling of Yeonpyeong
YouTube: War? South & North Korea fire artillery shells, houses ablaze
http://www.youtube.com/watch?v=P8hQJ84fYzk
Wikipedia: Six-party talks
BBC: June 2010
The BBC makes an interesting visit to North Korea. There is an article and a video.
You can publish this article on your website as long as you provide a link back to this page.