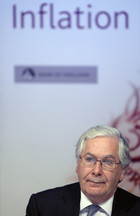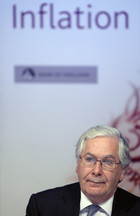 U.K. inflation rate has dropped to 3.6 percent from 4.2 percent in January – a second 0.6 point fall in a couple of months as a result of the fall out of VAT in year-to-year comparison.
This quick downward movement of the inflation is attributed mainly to the fact that rise in value added tax (VAT) from 17.5 percent to 20 percent introduced a year ago is no longer reflected in the year-on-year comparison of prices. The Office for National Statistics (ONS) has made a confirmation that the Consumer Price Index (CPI) and the Retail Price Index (RPI) has also fell down rapidly. The CPI rate has dropped to 1.2 points since November, the largest fall witnessed over two consecutive months with in a period of three years. RPI has dropped to 3.9 pe cent in January from 4.8 percent in December which is at its lowest level with in a couple of years.
Bank of England governor, Sir Mervyn King has explained in his letter to the Chancellor that further drops in petrol and utility prices are on the way and the factors that contributed earlier in inflation rise are now fading away. However, the economists are of the view that the cost of living is still weighed down on already sluggish wage growth, which at 1.9 percent equals to half of the rate of inflation. The general public is still getting poorer due to high unemployment and the static wages.
The Bank's quarterly inflation report has revealed the figures that are matching to the expectation to confirm the belief that inflation will hit the 2 percent target and possibly fall advance in early 2013.
The data has substantiated the Bank's last week decision to pump an extra £50 billion into the economy through its quantitative easing programme.
Article viewed on Oye! Times at www.oyetimes.com.