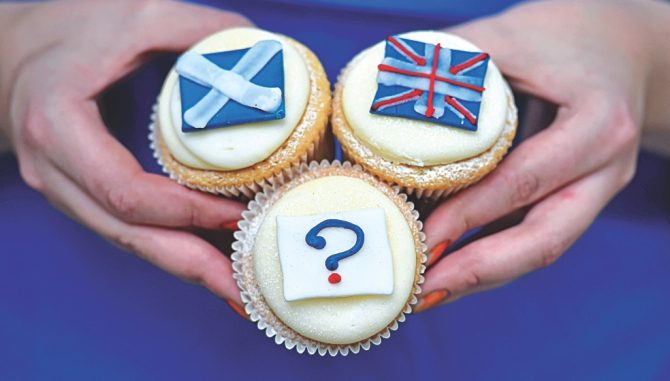 With just a couple of days remaining in the Scottish independence referendum on whether Scotland should go for partition or stay with United Kingdom, 'Yes' and 'No' campaigners are making final efforts to convert the undecided voters on Tuesday.
Both sides are making repeated claims and promises to boost the support in their favour with increased urgency.
The three Westminster elite leaders from Britain's main parties have issued a joint pledge on today, to give the Scottish parliament more powers if voters reject independence, in a final drive to save the union.
Conservative Prime Minister David Cameron, opposition Labour party leader Ed Miliband, and Liberal Democrat Deputy Prime Minister Nick Clegg – the anti-independence "Better Together" campaign supporters, have re-iterated their previous commitments, as they said: "We agreed that: The Scottish Parliament is permanent and extensive new powers for the Parliament will be delivered.
"People want to see change. A 'No' vote will deliver faster, safer and better change than separation."
On the other hands, pro-independence leader and Scottish First Minister Alex Salmond had rejected the offer after calling it a "last minute desperate offer of nothing".
Mr Salmond has told that it was "not going to dissuade people in Scotland from the huge opportunity of taking Scotland's future into Scotland's hands this coming Thursday".
The recently revealed surge in support for 'Yes' vote have made the opposition restless after the 'No' voters remained ahead for many months. Now, many polls are again suggesting that 'No' campaign have gained lead
A spokesperson for the pro-independence campaign has indicated: "It's clear that project panic is willing to say anything in the last few days of the campaign to try to halt the 'Yes' momentum.
"The reality is that the only way to guarantee Scotland gets all the powers we need… is with a 'Yes' vote on Thursday."
Yesterday, Queen Elizabeth II had also advised the Scots to "think carefully" before they cast their votes as it will decide their future.
Article viewed on Oye! Times at www.oyetimes.com.