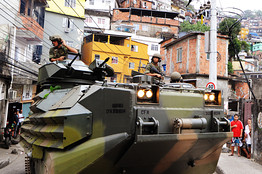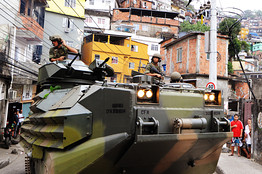 On account of the upcoming 2014 World Cup and 2016 Summer Olympics, Brazilian police along with armed forces started patrolling the lawless segments of Rio in order to gain peace and maintain quorum at the sports venue.
The slum under scrutiny was Rocinha slum that has been reported to be the home to a massively armed and dangerous drug gang.
The head of state security and chief architect of Rio's shantytown pacification program, Jose Mariano Beltrame, called the operation a major success and a big step toward breaking drug traffickers' hold on key parts of Rio. The city of Rio de Janeiro has more than 1,000 shantytowns where about one-third of its 6 million people live.
"We have taken over areas that for 30 or 40 years were in the hands of … a parallel power," he said. "This is a very large area. It's one of the biggest shantytowns in the Americas if not the world. We're returning dignity and territory to people."
Along with the Rochina slum, police simultaneously also overran the neighboring Vidigal slum, that was earlier on dominated by the Friends of Friends drug gang.
"Some say it's good; others say it's not," said Nilson Ferreira, 31, a doorman who lives in Vidigal, a slum near Rocinha that was also occupied on Sunday by soldiers and the police. "For me, it's fine," said Ferreira.
The succesful operation has been an outcome of months of intelligence work and preparation in order to combat the drug gang that was residing there.
Article viewed on Oye! Times at www.oyetimes.com