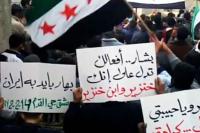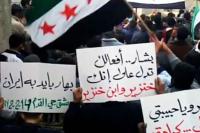 At an anti-regime rally in Damascus on Tuesday, protesters held signs calling on Iranians to rise against dictatorship in their country.
The following YouTube video shows two protesters displaying signs that say in Persian "Spring must come to Iran" and "People of Iran you are worthy of freedom."
http://www.youtube.com/watch?v=kwOz1Hd7f_s
Over recent months, there have been increasing signs of deepening solidarity and coordination between the protest movements in the two countries. While Green Movement leaders and activists have made no secret of their support for pro-democracy movements across the Arab World, the special relationship between the Syrian and Iranian regimes has induced a special relationship between anti-government forces in the two countries.
Facebook pages run by Iranian opposition activists, such as "25 Bahman," regularly keep Iranian users up-to-date about events unfolding in the Arab Spring, with a special focus on Syria where the ruling regime is considered a close ally of Tehran. At times, they even post content, with Persian translation, from pages run by their Syrian counterparts. The same is no less true about Syrian opposition pages, which express support and solidarity with their comrades in Iran. On Tuesday, as Iranians took to the streets to protests against their government, "The Syrian Revolution 2011" Facebook page, with close to 390,000 members, posted aphoto from the 2009 protests with a caption underneath that said, "Iranians are facing the same means of oppression that Syrians are facing and are being killed by the same bullet."
Ahead of Iranian opposition protests on Tuesday, more than seventy Syrian opposition figures expressed their support for Iran's Green Movement. The members of the Syrian National Council issued a statement extending their "thanks and support to the Iranian people in their quest for freedom."
"It is important for all of us to know that we share one region and that our struggle and freedoms are connected," the Council said. "The Syrian and Iranian regimes have cooperated very closely throughout the years to oppress their own people and to destabilise the region around them. We believe that the only way that our people can prosper is by cooperation and mutual respect to each other's past, present and future aspirations."
Tuesday's protests marked the one year anniversary of the Green Movement's last major demonstration held in solidarity with the revolts of the Arab world. Following last year's rallies, the leaders of the Iranian opposition, Mir Hossein Mousavi and Mahdi Karroubi, were placed under house arrest along with their wives Zahra Rahnavard and Fatemeh Karroubi. Rights groups say their house arrest violates international human rights conventions as well as Iran's own constitution. In a recent interview with Radio Farda, Reza Moini of the Paris-based Reporters Without Borders, described their continued house arrest as a "crime against humanity.
Click HERE to read more.